As a kid, my Dad had a bunch of mantras he'd repeatedly drill into my head.
"Don't Bullshit A Bullishitter" was one of my favs.  
"It Is Nowwwww Bedtime" was one of my least favs!
I still have yet another one of the (in)famous Silver catchphrases that he wrote a million years ago on his business card and mailed to me when (I can only suspect) he was on a mission to get me off his payroll.  The card read:
"Floss, Brush, Get A Date!"
The dentist in him always came first.  The Yenta matchmaker in him followed next!
However, one of his best and most important mantras he taught me was and still is:
"Save Some.  Spend Some.  Give Some To Charity."
In today's world it's unpolishedly tough to "Save Some" but I make a conscious effort whenever possible.
I gots no trouble in the "Spend Some" department.  I mastered that category long, long ago.  I'll give my Mom the credit for teaching me that one well!
When it comes to "giving some to charity," I'm proud to say I certainly try to do my share.
That said, now that Silver Unpolished LLC is officially on the books……
I'm selling my brand new Silver Unpolished wife beater tanks and T-shirts.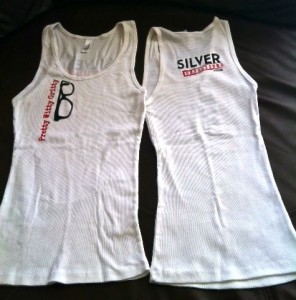 The white tanks are 100% cotton, ribbed Next Level Apparel "wife beaters."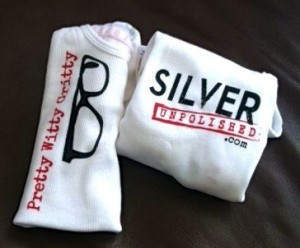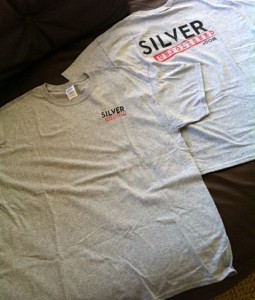 The heather grey tees are 90% cotton; 10% polyester preshrunk Gildan shirts.  The Silver Unpolished logo appears on the front left chest and centered on the back as well.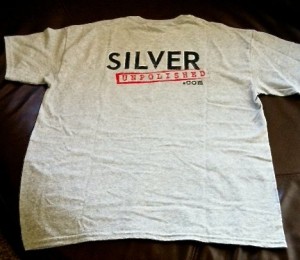 ***** A PORTION OF EVERY SALE WILL BE DONATED DIRECTLY TO THE NAMASTACY YOGA CORPORATION ON BEHALF OF SILVER UNPOLISHED LLC.  *****
Now, not only will I be spreading the unpolished word, but I'll also be wearing it!
If you would like to purchase a tank or T-shirt so that you too can wear some unpolishedness on your sleeve, please contact me via email at:
silver@silverunpolished.com
Provide me with your billing and mailing information and I will send it out ASAP!
Those of us who are unpolished come in all shapes and sizes;  Therefore my tanks and tees are available in whatever size suits you best!
JUST TO LET YOU KNOW… Tanks and tees are $20.00 plus shipping and handling.  Merchandise can be shipped via priority mail or flat rate.  Check, money order or cash payment accepted.  Further details provided via email.
AS ALWAYS, THANKS FOR YOUR UNPOLISHED SUPPORT!