Last night I barely made it through all three and a half hours (plus the Red Carpet Pre-Show) of the 2015 Academy Awards.
To say I was slightly underwhelmed would be an understatement but I had already committed to live tweeting my thoughts on who's wearing what, who's winning, who's losing and of course, who's hosting.  If all else fails, at least there would be Neil Patrick Harris.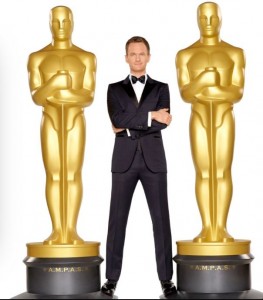 For those of you who were smarter than me and chose to tune out after NPH's opening act, but still want the unpolished recap and missed me live on Twitter and Facebook, here you go:
OSCARS 2015- MY UNPOLISHED THOUGHTS AS IT WAS HAPPENING:
1. Faith Hill looks amazeballs.  That necklace!
2. Giuliana Rancic still looks like she hasn't eaten in ages.
3.  What am I wearing?  I'm wearing a Silver Unpolished wife beater and a pair of old sweatpants.
4.  Ryan Seacrest looks unpolishedly great with some scruff on his face.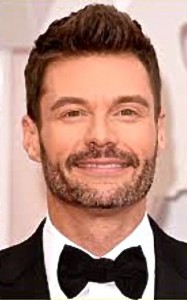 5.  I love Ethan Hawke.  Go Boyhood!  I'm rooting for you Ethan!
6.  I can't believe one of my friends, Robin Frankel is AT THE OSCARS!  She's sitting in the stands waving to the stars.  How cool is that?  I'm dying for all the dirt.  Robin, CALL ME.  I want the scoop!
7.  Watching the Pre-Show with my 9-year old.  He's a tougher critic than me.  Honest unpolishedness is inherent.
8.  I love Lupita Nyong'o because I love pearls.  You say tomato.  I say tomahtoe.  You say potato.  I say potahtoe.  You say Lupita…. I SAY LuPEARLa!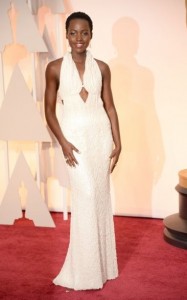 9.  Laura Dern is a classy chick; so is her Dad.
10.  Sienna Miller.  Wow.  Just wow!
11.  I'm plotting a Tanya Harding/Nancy Kerrigan moment on Adam Levine's girl.  WE NEED TO TAKE HER OUT!
12.  Kelly Osbourne has come a LONGGGG way.  I actually listen to what she says about fashion.
13.  Naomi Watts made a frittata for breakfast?  I just made a frittata for dinner!  How about that!
14.  Kerry Washington looks like she's wearing my Badgley Mischka wedding dress.  Seriously, I'm not kidding.  Her dress looks like my dress.  (*Side note:  Scandal hasn't only jumped the shark, it has leapt off the tallest building.  It's become a total mockery.)
15.  Thank God Khloe Kardashian didn't get hurt in that car accident.  Otherwise, who would report the news on the Oscar looks?
16.  Juliana Moore is a knockout.  Stunning human being.  She's aging with such grace.  I could stare at her all night.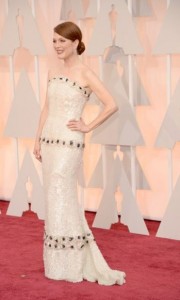 17.  Speaking of knockout, I wasn't joking.  I'm coming after Adam Levine's woman.  SHE NEEDS TO GO!
18.  Please refer to #13.  If you didn't know I was being unpolishedly sarcastic, you should really unfollow me, delete me and remove yourself from the SUP subscription list.
19.  I am soooooooooooo bored.
20.  The show hasn't even started yet.  I'm praying it'll be more exciting than the Red Carpet Pre-Show.
21. I'm a huge fan of Neil Patrick Harris.  HUGE FAN.  He can do no wrong in my book.
22.  I'm totally over Khloe Kardashian.  I'm totally over Giuliana Rancic.  I'm TOTALLY OVER Behati Prinsloo, a.k.a. Mrs. Adam Levine.
23.  Thanks to Guiliana Rancic, my kids now know what a flogger is.  Awkward.
24.  Hi Steve Carell.  Congrats on your nomination my friend.  That's what she said.
25.  Reese Witherspoon.  WOWW
26.  Reese Witherspoon.  WOWWWWW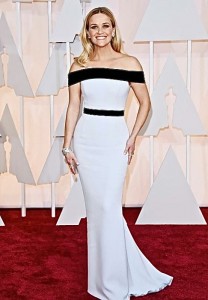 27.  Reese Witherspoon.  WOWWWWWWWWWW
28.  You catch my drift about Reese Witherspoon?
29.  Is this list getting annoying?  I hope not.
30.  John Legend.  You look dapper.  Your gal looks….. um?
31.  Ummm… Where is Bradley Cooper?
32.  Oh, there he is.  Perfect timing!  How can you NOT love Bradley Cooper?  He's amazing.
33.  Chris Evans.  HOT DAMN!  Adam Levine, if you're not gonna get rid of your lady, there's always Chris Evans!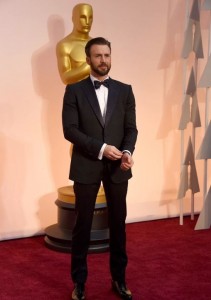 34.  You people do know who Chris Evans is right?
35.  I'd like to thank the Hollywood Foreign Press.  Oh wait…… Wrong show!  What do the members of the HFP do on Oscar night?
36.  I think it's hilarious when the actors and actresses have no freakin' clue who they are wearing!  Stumbling on their pronunciation of the designers is classic!
37.  Who wants to bone Emma Stone?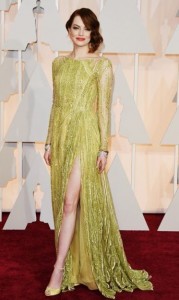 38.  Oprah didn't appreciate Doogie's joke about being rich.  Lighten up, O!
39.  "If you are lucky enough to have a parent or two alive on this planet, call them.  Don't text, don't email.  Call them.  Tell 'em you love them."  – J.K. Simmons; Best Supporting Actor Acceptance Speech.
40.  $168,000 worth of swag in that bag?  Next year I wanna get my Silver Unpolished tanks & tees in that bag!  Where's my PR person????????
41.  Doogie Hawser, MD., what's going on?  You're better than this.
42.  ZZZZZzzzzzzzzzzzzz.  How much longer?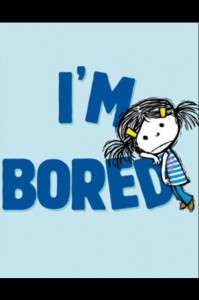 43.  Nicole Kidman looks remarkable.  Not that anyone gives a shit what I think, but she does.  Gorgeous.  Beyond.  Polished.  Obvs.
44.  For the record, I tweeted she looked flawless before Bethenny Frankel did.  (Yes, it matters!)
45.   NPH, what's with the nakedness?  I don't get it.  However, your body looks like Adam Levine's sans the tats.  You should do a spoof on him.  It would be a laugh riot!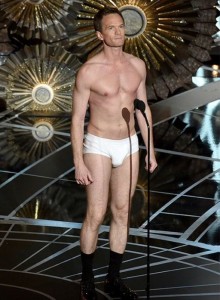 46.  Thank you Jennifer Hudson for that beautiful song.  Now can I please LET GO of this show?
47.  Whoa… Hold up!   Pan the camera back.  That was Ben Affleck.  Hi Ben.  I just got a second wind!
48.  Jennifer Aniston looks great.  Not sure about the straps.  Dress would be perfect without; and  just to be clear, I'm still bored.
49.  In Memoriam.  Joan Rivers got snubbed.   Wonder why.  Not cool at all.
50.  Here comes Lady Gaga…. I'm bracing myself.
51.  Lady Gaga in couture on the Red Carpet.  That's a waste.  I'm calling it Lady NahNah.
52.  Lady Gaga on stage… The Sound Of Music circa 2015.  Not sure I saw that one coming.
53.  Lady Gaga, I almost thought you were Julie Andrews but then I saw your right bicep.
54.  Lady Gaga your voice is insane.  I'll give you that.  On your performance: Lady RahRah!
55.  Did he just thank his……dog????!!!!!
56.  BEST LINE OF THE ENTIRE NIGHT:  "Stay weird.  Stay different." – Graham Moore; Best Adapted Screenplay for The Imitation Game.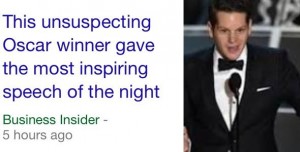 57.  Eddie Redmayne.  Best Actor.  The Theory Of Everything.  Bravo!  Bravo!  Bravo!  Everyone needs to see this movie.  RENT IT.  ASAP!
58.  Matthew McConaughey  WTF?  I love you but we need to talk.  Were you rushing?  Couldn't you have cleaned up in your Lincoln?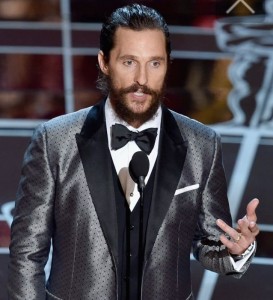 59.  Sean Penn.  Same applies to you too, Spicoli.  Disaster.
60.  How did I miss seeing Birdman?  I gotta get on that immediately.
61.  Neil Patrick Harris… your Oscar predictions?  In the guarded briefcase?  C+.
62.  It's a wrap folks… That's it.  Time to party!  I've been waiting all night for Wolfgang Puck's mini sliders.
63.  87th Academy Awards is now officially over.  Finally.  Thank you Jesus!
 JUST TO LET YOU KNOW… At the risk of repeating myself, Graham Moore's acceptance speech (thought #56) was without a doubt, the best part of the entire show.  His heartfelt words resonated far beyond the Dolby Theatre.  I've been saying for years that part of being unpolished means staying true to yourself.  It's okay to be weird.  It's okay to be different.  If you don't want to listen to me then by all means, please listen to Graham.  "Stay weird.  Stay different."  STAY UNPOLISHED!   #ownit #embraceit #liveit #beunpolished