JUST TO LET YOU KNOW…. I love receiving feedback on my blog posts. It's kinda the only the way I know if my message resonates with the reader. Whether it's an email, an online comment or a simple text, I'll gladly take the input. Good, bad or unpolished, I never turn down criticism; constructive or otherwise. I always try to find a takeaway in any message to help me grow.
That said, this week I got a great text in response to my latest blog. Here it is: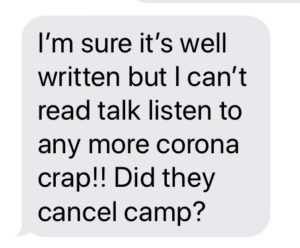 After reading this, I realized two things. One, we still have yet to find out what the situation is on camp. At this point the only thing I can gather is maybe the camps whom haven't pulled the plug are trying to win a Golden Globe for "BEST CANCEL VIDEO" and the reel is still in the editing room? This seems more logical than actually going through with the countless unknowns of having a quasi summer camp experience; but what do I know? [Not much]
Secondly, I guess it is true.The only thing I've been writing about since March is "corona crap." Maybe it has gotten a bit stale. As mentioned above,I always welcome the feedback and if the shoe fits, I try to adapt accordingly. So with that said, today's post will cover all the other things I've been doing over the last several months that don't pertain to shape shifting my thoughts or feelings on how Covid-19 has impacted our lives or attempting to creatively redirect my brain away from the madness that is Coronavirus. Maybe you'll relate or maybe you won't; that's what makes for horse racing. (Or virtual horse racing in this case!)
So here goes….
Below please find my latest blog on what's been going on other than Coronavirus chatter: 
The End!