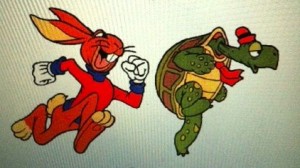 I WAS STUCK IN A RUT OF THE DAILY GRIND
EAGER FOR CHANGE BUT WHAT WOULD I FIND?
NEEDED AN OUTLET TO SHOW OFF MY SASS
HAD TO BE BOLD. HAD TO BE CRASS!
SO I CROSSED MY FINGERS AND LAUNCHED THIS SITE
AND NOW YOU'RE WAITING TO READ WHAT I WRITE.
THE CONTENT IS COMING… SO BUCKLE UP TIGHT
ALL NEW POSTS ARE ENTERED AT NIGHT.
FOR THAT IS THE TIME WHEN I DO MY BEST STUFF
I POUR A DRINK OR TAKE A PUFF.
I KNOW YOU'RE EXPECTING TO SEE WHAT'S IN STORE
I VOW TO DELIVER SO THAT YOU'LL WANT MORE.
BUT SLOW & STEADY WINS THE RACE
AND I'M THE TORTOISE IN THIS CASE.
'CUZ WE ALL KNOW THE HARE WAS DESTINED FOR DOOM
QUICK AND IMPULSIVE. BLEW HIS WAD TOO SOON!
CHECK ON TUESDAY FROM YOUR COMPUTER OR SMART PHONE
THE FIRST BLOG POST IS TITLED, "GO BIG OR GO HOME!"