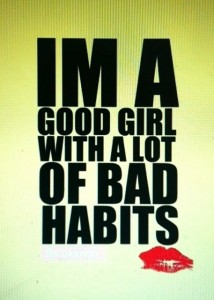 I HOPE YOU'RE NOT OFFENDED BY THE WORDS I UTTER
MY FILTHY MOUTH TENDS TO FESTER IN THE GUTTER.
DON'T BE FOOLED BY MY PETITE SIZE
OR THE TRUCK DRIVER TALK MIGHT COME AS A SURPRISE.
I WON'T CHANGE MY WAYS…  NOT ONE SINGLE BIT
I'M WEAK WITH THE MANNERS BUT STRONG WITH THE GRIT!
IF EMILY POST OR DEAR ABBY KNEW THAT SLANG IS PART OF MY CRAVE
I'D HAVE TO ASSUME THEY WOULD BE ROLLING OVER IN THEIR GRAVE.
AT TIMES WHAT I WRITE IS A LITTLE BIT COLDER
YOU MAY NOT WANT THE KIDS READING OVER YOUR SHOULDER.
BUT NOW YOU'VE BEEN WARNED… THE NEXT POST IS SORTA BOLD
SO YOU CAN'T EVER SAY THAT YOU WEREN'T TOLD.
CHECK THE SITE ON WEDNESDAY AND THEN YOU WILL SEE
THE LANGUAGE I USE IS NOT RATED G.
THE FTS RESPONSE IS THE BLOG TITLE NAME
READ IT AND LEMME KNOW IF YOU FEEL THE SAME.
TAKE SOME TIME TO GUESS WHAT THE "FTS" STANDS FOR
AND THEN PULL UP THE SITE IF YOU WANT TO KNOW MORE!