[slideshow id=14]
SHANTI. SHANTI. OHM. PEACE. BREATHE
TEN MORE MINUTES AND I GET TO LEAVE.
SHANTI. SHANTI. OHM. OHM. OHM
I'M F@#%KING STARVED AND I WANNA GO HOME!
THOUGH STAY OR PLAY SEEMS MY ONLY CHOICE
"CAN WE PAUSE FOR A SNACK?" SAYS MY INNER VOICE.
SACRED ENERGY FLOWS THROUGH THESE FOUR WALLS
BUT I'LL BE DAMNED… IT'S HOT AS BALLS!
MAYBE ONE DAY I'LL BE A YOGI BADASS AND LEARN HOW TO FLY
BUT AT THE MOMENT, I JUST DON'T WANT TO DIE!
'CUZ IT'S EIGHT THOUSAND DEGREES IN HERE.  I'M A SOAKING WET MESS
I'M DIZZY!  I'M DRENCHED!  HOW DOES THIS HELP TO DE-STRESS?
SOME POSES ARE HARD.  I DON'T MEAN TO SOUND LIKE A DIVA
BUT I COULD TOTALLY LIVE WITHOUT CRESCENT LUNGE OR DANCING SHIVA!
CHATURANGA DANDASANA? HELP….. I'M SOOOO CONFUSED
I DO NOT SPEAK THIS LANGUAGE!  CAN I PLEAZZZZZZE BE EXCUSED?
SO I'M CALLING ALL YOGIS…. THE VETS AND THE NEW
HERE'S HOPING MY TALE WITH RESONATE WITH YOU.
FIND YOUR DRISTI ON MY BLOG
THEN WE'LL ALL MEET UP IN DOWNWARD DOG.
THIS ONE'S KINDA LONG…PERHAPS SET AN INTENTION TO FOCUS
AND FOR THOSE WHO NEED MORE…MAYBE READ IT IN LOTUS!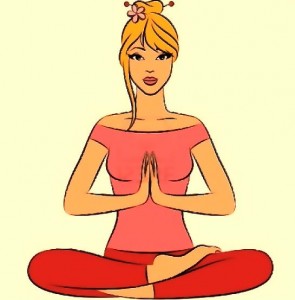 MY YOGA JOURNEY IS COMING NEXT.  THIS THURSDAY IT WILL FLOW
LOOKOUT FOR THE POST TITLED, SHOULD I NAMASTE OR NAMA-GO?!?