[slideshow id = 15]
Quieting the mind feeds the soul.  To find happiness, you must look within.
According to the school of Hindu, yoga is a philosophy advocating and prescribing a course of physical and mental disciplines for attaining liberation and the ability to achieve control of the body and mind.
Easy, right?  Not so much for a Type-A, perfectionist like me.  The basic foundation of yoga represents everything that I am not.  For this very reason, I've set a challenge to open myself up in hopes of finding a bit more clarity and inner calm.
DAY ONE:
I have no idea what I've gotten myself into.  I'm already exhausted and we haven't even started.  Maybe no one will notice if I hide in the back and grab a nap on my mat.  Except… I'm the only one here.  It's gonna be tough to subtly blend into the background if I am the background. Ughhh.  I didn't want to draw attention to myself.  Should I jet now and forget the whole thing?  Screw it, I'm here.  How awful could it be?
The teacher arrives and introduces herself with a warm, sincere smile.  Speaking of warm, it's about eight thousand degrees in the room and I'm notably concerned that my breakfast won't sustain me throughout the entire class.  Not wanting to expose my paranoia (for fear that I'll be sending negative energy into this seemingly positive space) I decide to hope for the best, expect the worst and just let the chips fall where they may.
Class begins.  The teacher requests that I set an intention for my practice.  Huh?  This intention should be something to recall in my head during class that keeps me grounded and helps me to maintain focus.  I start to think and realize my intentions are quickly adding up to my laundry list of issues:
My kids should always be safe and healthy
So should the rest of my family… And my friends, too
I want to be more balanced and centered
I wish I didn't get so stressed out about stupid shit
Oh, no!  Did I unplug my flat iron before I left the house?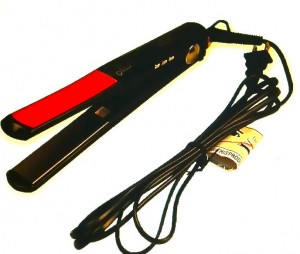 Here we go… Ujjayi Pranayama.  Uttanasana.  Chaturanga Dandasana.  Um, I'm sorry, WHAT???
What language is this?  I wasn't aware that the prerequisite for class was being fluent in
Ancient Sanskrit. I'm totally lost!  Could we back up and maybe start again in English?
 Oh shit… there's more… Dandayamana-Janushirasana.  Tadasana.  Trikonasana.
If this is intended to quiet my mind, why the hell does every pose in yoga jargon sound like a sexually transmitted disease?  Trikonasana?  Come on!   This is not healing my mind at all.  In fact, I'm cringing at the thought of what that message would sound like.  "Uh… Errr… Hi, it's the nurse from Dr. So and So's office.  Your chart says it's okay to leave information on your voicemail.  So… yes, well, um, the test results came back from the lab and it, uh, well… it appears as though you have a mild case of Trikonasana."  Oh Fuck!
Fast forward ninety minutes.  At last… I get to close my eyes and lie down!  Savasana.  Final Rest Pose.  Ahhhh, now you're speaking my language!  Let's hang here for a while.  We end class by bowing to the space of gratitude for our practice and to each other.  I thank the instructor for putting up with my novice ability and tell her that although I am far from hooked, I'm committed and will be back.
DAY FIVE:
I didn't dread coming to class today.  That's saying a lot since I think I got a neck kink during my practice on Day Three.  I twisted it because I was desperate to see the clock through the window in order to gauge how many more minutes until that rest pose thing.  I wanted some of that Savasana!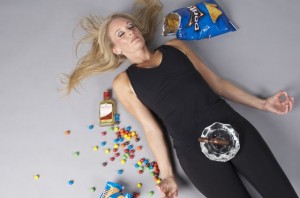 Today was also a breakthrough when I got some well needed clarification.  This instructor could sense it was taking me a while to set my "intention" and offered a helpful tool.  She said, "Just pick a word or phrase that will make you happy.  It doesn't have to be a deep thought.  Just something you can come back to when your mind wanders."  Feeling relieved I said, "Ahhh.  I've been setting such heavy intentions.  A single word or phrase makes it much easier."  
I then thought to myself, Okay… What makes me happy?  In a single word or two? Hmmm.  I've been craving the kale salad at Houston's, so…. kale salad?  Can that be my intention?  Hells yeah it can!  It's settled…my intention is kale salad!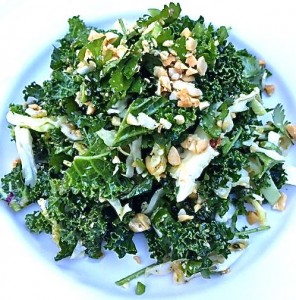 Though there are more people here today, the room is surprisingly calm and quiet.  I can feel the energy.  The flow of the class moves at a faster pace.  I'm working hard.  I still can't figure out why the poses have to sound like infectious diseases but at this point I'm just grateful I haven't contracted anything!  I still don't know how to pronounce a single word properly but I sorta know what to do when I hear the instructor's cue.  That's progress!  We move into a standing series that is all about balance.  In order to stay on point and remain in the pose, I'm pretty sure I must activate my Mula Bandha.  Translation: Tighten my core.  Squeeze the muscles of my pelvic floor.  Engage my root lock.  Uh-oh, I think I'm losing focus.
No shit I'm losing focus… I left my tight core in the Operating Room after my second C-section.  
The instructor suggests calling upon our intention for help.  I pick a spot in the mirror to stare at and concentrate. Silently I say, "KALE SALAD.  KALE SALAD."  I'm not convinced it actually helped, but focusing on the kale did make me happy!  Again, progress.

DAY SEVEN:
I blew off the gym today for Hot Vinyasa Flow.  Alright, so I'm digging the yoga.  So far each class has been led by a different instructor.  I love that they all have their own style of educating and enlightening me through their unique discipline.  And, there's music!  Practicing yoga while listening to tunes ranging from classic rock to techno funk and back to soothing earthy melodies makes all the difference.  The Beatles, Florence and the Mechanics, Sarah McLachlan, Adele.  All awesome.  Jay Z's Empire State of Mind?  Not sure I saw that one coming, but I loved it.  Even the lingo is starting to sound recognizable.  Lift up.  Look up.  Reach up.  Wayyyy up.  Fingertips to the earth.  Hands to heart center.  Forward fold.  Plank.  Upward Dog.  Downward Dog.  Breathe.
DAY NINE:
There was no yoga for me today.  There was supposed to be but life got in the way.  The morning started by calling 911 and a trip to the ER after my husband fell in the bathroom.  Then a mad dash to the plastic surgeon's office to sew up my son's eye due to calamity on the playground.  Next was a consultation with a specialist to discuss if my other kid's upcoming tonsillectomy was absolutely necessary.
This was not how I had envisioned my Tuesday.  Forgive me if these events put me on auto pilot and had me reverting back to more familiar methods of dealing with life.  No amount of yoga was gonna fix this.  NAMASTE MY ASS!  Today was a Nama-GO-straight-to-the-liquor-cabinet-and-hit-the-bottle-kind-of-day!  I bowed to the space of gratitude for Dewars on the rocks and a few pills.  I have my own rendition of Savasana.  It's called knock back three scotches, skip dinner and call it a day!  Do you even have to ask why I turned to yoga for serenity in the first place?
DAY ELEVEN:

I'm back.  I'm happy to be here.  It feels like a safe environment.  I'm excited for class today for various reasons.  The most superficial of reasons is that I bought one of those cool, thin yoga towels that stick to your mat.  In previous classes my beach towel kept bunching up underneath me and my feet would slip from the poor grip.  It was a real drag so I felt it was high time to step it up a notch.  Class was amazing.  I feel great!  Maybe it was the new towel?  I stayed focused and didn't really have to rely on my intention too much to get through the poses.  However, when my mind did start to wander, I welcomed the opportunity to think about the kale.
DAY TWELVE:
Sweet Jesus, Mary and Joseph!  Something INSANE happened.  I was following the teacher's direction and really being mindful of leaving the noise of my crazy life on the other side of the door.  It was suggested we take a moment for ourselves and fall into a Child's Pose.  I sat down and melted into position.  It felt so good.
All of a sudden and without any warning what-so-ever, I began to cry.  Not a cry like I stubbed my toe kind of cry, but rather an uncontrollable, DEFCON 1, sob-like cry.  
The feeling was visceral and came from an unfamiliar place inside of me.  At first I thought it had something to do with the music.  Pachelbel's Canon in D major was playing.  I get the chills every time I hear it but this was very different.  I knew the outpouring of emotion couldn't be from the music alone.  I didn't expect any of this, and truth be told, it scared me.  I didn't want to have a breakdown in the middle of a yoga class but I could tell that I didn't have a choice in the matter.  My body was in charge and I was just along for the ride.
And so, there I was… a sweaty, hot mess collapsed on the floor sobbing.
"It means the yoga is working," so say friends of mine who have gone through their own similar experiences.  In the moment, I tried to fight the emotions because it made me feel very vulnerable.  It's only in hindsight that I realized my built up, repressed feelings needed a way to come out.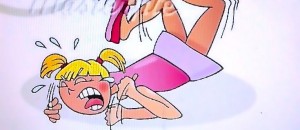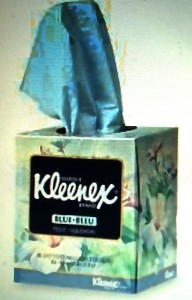 Understanding that yoga can be a positive and constructive conduit to release tension and anxiety is mind blowing.  Recognizing that yoga has helped to tame my monkey mind makes me feel empowered.  I have a hunch this is just the start.
In a short amount of time this room has become a place that is beginning to make sense when the rest of the world doesn't.  I'm noticing that I look forward to coming to class because no matter how revved up I may be upon entering, I always feel better afterwards.  I'm learning the goal isn't to try to change my life, it's just to become more accepting of it.
Don't get me wrong… It could take ten lifetimes before I am ready to pack a bag and head to a workshop in India.  However, I can tell that having faith in this methodology may increase my chances of NOT having to pack a bag and head to the Betty Ford Clinic!
There is no judgement in yoga.  They call it a practice for a reason.  Nobody is perfect, myself included.  It's humbling to believe that doing the best you can is good enough.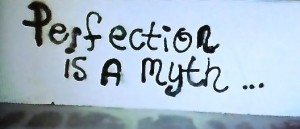 AND JUST TO LET YOU KNOW… when I do lose sight of what's important in my life, and I need to redirect my brain, I love that I can always count on kale salad to help get me there!
NAMASTE