[slideshow id=20]
I met Jen about seven years ago on a rainbow colored carpet.  We were across from each other during circle time with our then babies in a Mommy & Me program.  I could tell by her obvious lack of enthusiasm for spit up and diapers that we'd quickly become friends.  Little did I know that now she would be the girl with the slamming body, rocking it out on the spin bike and I'd be singing her praises on my blog.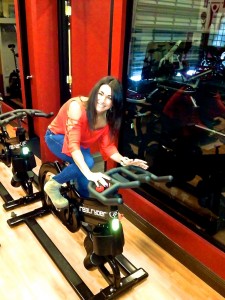 If you know anything at all about how I operate, then you know I don't hand out compliments haphazardly.  I only give commendations when I feel there is real merit achieved.  It may seem harsh, but when I do have something nice to say, at least you'll know that I really mean it.  In my humble opinion, Jen's transformation is undoubtedly accolade worthy.  As a person who continually strives to improve upon what most would consider an already very healthy lifestyle, I was especially curious to find out if there was a reason that Jen had decided to commit to a new way of life.  I asked her if she had a defining moment when she realized she wanted to make a change.
She replied:
"Oye.  When I first met my husband I looked good.  But we have a story that is deep and the bottom line is that I went through a lot of strife and my body went through the ringer for several years.  Five years ago I started my 100% dedication to fitness and my journey hasn't stopped.  My younger years were active but I was not consistent nor was I devoted.  I have dramatically changed my diet even though I am constantly tweaking it and learning new things every day to help me maintain my goals."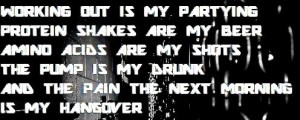 Jen's candid answer resonated with me.  I wanted to support her as she embarked on this new passion.  I figured showing up for her spin class was the least I could do.
With a nickname like J-Lo, being cool just comes with the territory!  I always knew Jen would be able to live up to this term of endearment, but I had no idea how ballsy she was until I observed her.  Let's just say that it takes a certain kind of Je ne sais quoi to publicly parade around town wearing a backless shirt with no bra and skin tight, white workout pants while proudly shaking what her Mama gave her!
 If that alone isn't reason enough to earn my respect, seeing her tie a skull and crossbones bandana on her head seals the deal!  I don't know many people who can get away with a look like that.  I would NEVER be able to pull that kind of thing off!  Cue Alicia Keys… THIS GIRL IS ON FIRE!  Bravo to J-Lo. Her fierce level of self-confidence warrants a round of applause!
Okay, enough with the mushiness.  Time to put up or shut up!   I dusted off my old spinning shoes that had been living on a shelf in my garage for the last decade and told J-Lo to put her muscles where her mouth is and show me what this ryde was all about.
Admittedly, the beginning few classes were difficult.  It's an awkward feeling to put your trust in a piece of equipment that is designed to make you rely on it's intended instability. The closest thing I can use to describe the sensation is that it reminded me of being on Mr. Toad's Wild Ride at Disney.  I always remembered wondering if something was wrong with that rickety vehicle or if it was normal that it gave me whiplash every time it made a sharp turn on the automated track regardless of how carefully I was trying to steer the wheel!
There's nothing fake about the REALRyder Indoor Cycling Bike.  There's nothing stationary about it either.  This bike is somehow engineered to move across three planes of motion and allows the rider to steer, lean and balance on top of it.  I may have worshipped Johnny G back in the day and jumped onto his spinning-crazed bandwagon, but I assure you cycling on a RealRyder takes things to the next level.  Your body and mind becomes fully engaged in this dynamic experience.   Not to mention, when J-Lo turns the lights off, strobes on, and kicks up the volume, you can't help but to be psyched when she yells,
"Turn the resistance all the way to the left and… SPRINT!!!!!!!
Now that I've become more familiar with how the bike moves, I'm in a great groove and I really look forward to my Tuesday mornings.  I've watched J-Lo's confidence soar as her comfort level in teaching the class builds from week to week.  The second I hear her say,
"OKAY PEOPLE… HYDRATE"
I use it as my cue to let out one of my infamous loud grunts and my signature WOO-HOO!  My overzealous exhales are intended not only to help catch my breath, but also to serve as a signal to J-Lo that she's kicking my ass and I'm loving every second of it!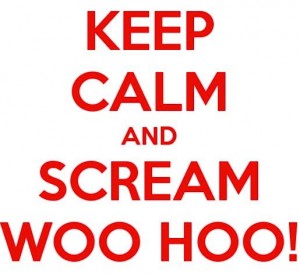 The amped up environment also has a lot to do with the music.  Jen plays all the current hits that you would probably expect out of a high energy, cardio-intensified class, but the real treat is when she sprinkles in some classic, old school tunes that would motivate anybody to keep working hard.   You Shook Me All Night Long and I Love Rock N' Roll (so put another dime in the jukebox baby…) gets me through the big, steep climbs and Whoomp, There It Is pushes me to keep up with the beat while jumping in and out of the saddle.  It's almost impossible not to have that song lingering in my head for the rest of the day!
LET ME HEAR YOU SAY WHOOMP CHAKA LAKA CHAKA LAKA CHAKA A LAKA
CAN YOU DIG IT? WE CAN DIG IT! 
CAN Y'ALL DIG IT?
I hope there are some of you who are now intrigued enough to give it a try.  Though I'm sure some skeptics and naysayers do exist.  To those individuals, I bet I know what you're thinking…
You tried a class back in Y2K, but your crotch was throbbing (and not in the good way) so you gave it up and never considered it again.  That is what you were thinking, right?  Okay, so here's the deal… I get it.  Totally!   No one would agree more than me how essential it is to keep your vajayjay protected and out of harm's way so that it stays in good working order.  Lord knows this is one body part we can't be f*cking around with (no pun intended) in an elective activity which could potentially compromise it's functionality!  That said, here are some tips that may help depending on your threshold for pain:
1. Don't waste your money on a gel seat cover.  The extra layer of cushioning doesn't make a substantial enough difference.  You're still gonna hurt afterwards!  Suck it up, and deal with it.
2. Try to compare the pain to childbirth.  When you change the perspective, you'll realize If you got through labor and delivery, a 40 minute ride should be a piece of cake.  Hightail it home right after class, take a hot shower and throw on your comfiest sweats.  Open up a bottle of wine and have a glass or three with your lunch.  That should help ease the throb!
3. Schedule your next Brazilian bikini wax on the same day as a RealRyder class.  You'll hurt from both, so why not kill two birds with one stone?  Take the class, pop a Percocet, clean your stuff up,  and before you know it, all the torture will be over!  When you arrive back home, feel free to finish off the bottle of wine you started earlier.  Allow yourself a few rest days, and then get your ass back on the bike for another J-Lo beating!   What is it they say?  NO PAIN… NO GAIN!
If all else fails and you're still truly concerned, then the only choice left is to forego fashion and buy a pair of authentic padded biking shorts.  It seems they do help though you won't look nearly as chic as J-Lo!
The summer is the perfect time to get yourself hooked on a new, healthy addiction and J-Lo's Tuesday morning class is just the right fix.  You'll be invigorated for sure;  You'll be motivated, no doubt;  And if you stick with it, you may even end up with a cinched waist and ripped triceps like Jen.  Come see for yourself why she's a beauty and a beast at Inception Exclusive Athletic Studio.  If you mention my blog, and you're a first timer at the training facility, Tony Clark, owner and fitness professional extraordinaire, will gladly allow you to try a class FOR FREE!  For more information on class schedule, location and how to get started toward a NEW BEGINNING and a HEALTHIER YOU, click here.
AND JUST TO LET YOU KNOW... Speaking of Tony, who affectionately refers to himself as Chocolate, is another force to be reckoned with.  If I had any input about his nickname, I would have added the word HOT as a prefix to his already given name Chocolate.
His training style is maddeningly intense to say the least, and he's not above beating the living shit out of his clients!  But boy oh boy, he knows how to get results.
My hamstrings had the recent pleasure of getting stretched out by his expert techniques and it was by far, an experience I will not soon forget.  There's certainly something to be said for the fine line that exists between pleasure and pain, but perhaps those details are better left reserved for an entirely separate blog entry of it's own!
When you're ready to hear that story, let me know.  Until then, ciao for now!