[slideshow id=27]
I'm just hours away from boarding a plane to the Amalfi Coast.  There are a million things I should be doing in preparation for this trip.  I should be packing.  I should be writing a detailed list of instructions for my Mother-in-Law who will be watching my kids.  I should be leaving notes around the house in obscure places so that when my boys least expect it they will find yellow sticky pads that say, I love you guys and Don't forget to brush your teeth!  I should be squirting my perfume on the pillows so that if (but most likely when) my son gets sad that I'm gone he will be able to say, "Mmm.  This smells like Mommy."  And I should probably be looking for my passport.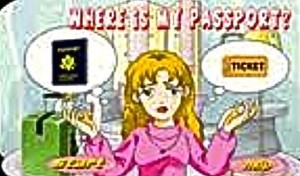 Unfortunately,  I'm not doing any of those things because I'm too busy educating myself on where I should be eating when I get to Italy.  I've always known that my over the top obsession with food teeters on some kind of disorder but the fact that my research has nothing to do with museums or cathedrals or grottos and everything to do with cheese and wine and pasta really confirms that I'm a food-addicted lunatic.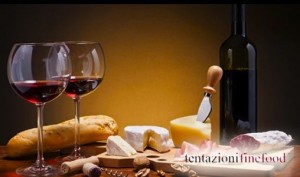 My love for food began at a young age.  I remember being at a family Bar Mitzvah where there was a buffet.  Before that day, I had never seen so much food on one table in my entire life.  I was mesmerized.  Because I had no prior experience with buffets, I didn't know exactly how it worked.  I was not aware that you got to pick and choose.   I guess I just assumed you were supposed to take a little bit of everything.  No one told me the various items were optional!
When I sat back down at the table, my outspoken Grandmother took one look at my piled up plate and said,
"Oy Vez Mear!  Kanuhura! That's some appetite, dear."  
In her defense, a prisoner on death row having his last meal would have selected less food.  My plate looked like I was headed to the electric chair immediately following the candle lighting ceremony.   Though her opinionated remarks didn't stop me from inhaling every last bite, I suspect that incident helped to launch my food-crazed mindset.
As a tween, the second my alarm clock went off in the morning, I'd ask what we were having for dinner.  Apparently, if I was told we were having something I loved, say like lamb chops, it would set me up in a position to have a great day.  However, if I was told we were having something that didn't quite do it for me, like meatloaf, it really bummed me out.  At the time it didn't occur to me that this behavior could be classified as problematic; But in the retelling?  Um, hellooo?  It's nothing short of utterly insane.  It doesn't take a Masters Degree in Psych to figure out that my emotions were dictated almost entirely by food.  It's just a hunch, but it seems like that is NOT NORMAL!  Jeez, no wonder I'm such a whack-job.
My issue with food isn't that I love it.  I'm totally okay with that.  My issue is portion control.  I have none!  I'm an "ALL or NOTHING" kind of eater.  The latter is rare, but on occasion it does happen when I get caught up with great company and great wine.  If that's the case, the food may fall by the wayside, but rest assured I make up for it by the tremendous portions of alcohol.   When I'm in "ALL" mode, HELL HATH NO FURY!  For a petite girl, my appetite is ferocious.  Seldom do I leave a restaurant with a doggie bag because it's usually frowned upon to take home an empty plate that has been licked to the bone!  I don't need fancy either.  As a matter of fact, I typically steer clear of places that are too prim and proper because in my opinion:
Really fancy food equals really small portions that leave me still feeling really hungry and somehow end up really costing a fortune which makes me really annoyed.
I mean, REALLY????
I'd sooner jump at the chance to hang out with Guy Fieri at any Diner, Drive-In and Dive before I would ever want to rub elbows with the likes of Albert Roux or Joel Robuchon.  Wouldn't it take away all the fun if I had trouble identifying what I was eating and I couldn't understand a single word they were saying to boot?  (My unpolished foodies know I'm right!)
For the most part, as a society we've become conditioned to revolve our plans around food.  Whether it's a family reunion or a family play date; A holiday or just any day; A birth or a death; Everything is about the food.  When you invite friends over they ask, "What can I bring?"  Furthermore, when you are extended an invitation, don't you insist on bringing something even when the hostess swears she's got it all covered?
"Whatever!  We're not coming empty-handed!  
I'm bringing dessert.  
And wine. Lots of wine!"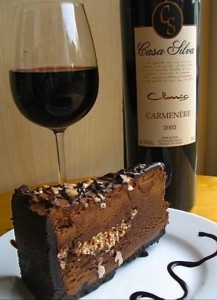 I know I'm not alone in my culinary consumed lifestyle.  Some of my greatest friendships have been forged because of a shared passion for food.  It's not unusual to discuss a stellar meal or a new recipe or a desire to try the latest eatery in town with many of my fellow foodies be it in person or by phone or via text message.  Most of the time the exchange starts out positive, though it rapidly shifts to how we are gluttons for punishment because we've once again overeaten and the self-loathing has taken over.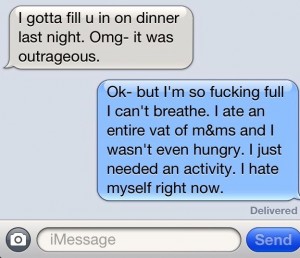 Any decent nutritionist would preach that in order to have a healthy relationship with food you must find balance.  Depriving oneself from the foods we love is the quickest way to set ourselves up for failure which inevitably leads to the almighty binge fest.
Blah, blah, blah… Tell me something I don't already know.   I'm not a nutritionist, and I'm certainly not a shrink, but I say it's hard enough maintaining a healthy relationship with people… Do I really have to work on my relationship with food now too?  Why does it have to be so damn complicated?  Sadly, for the food obsessed crazies like me, we know that it's a constant battle.   As an adult, I've sorta learned how to function within the dysfunction of it all.  At least I'm aware of it, can admit it and have pretty much accepted it.  I think that alone is a step in the right direction.  Better yet, I think it calls for a reason to pour myself a cocktail and have a nosh!   Oh wait, who am I kidding?  As if there has to be a reason?  Hell no! Of course there doesn't!  You wanna come over and join me?  This foodie's kitchen is always open!
AND JUST TO LET YOU KNOW... If my calculations are correct, I could possibly end up having  twenty-five different meals while in Italy.  On the plane home I may need a bigger seat to squeeze my ass into and will most definitely have to wear pants with an elastic waistband, but I'm not afraid! I'll deal with the consequences when I get back.  It's Italy for Christ's sake and I've been practicing:  "Mi scusi, più pane. Farò un altro bicchiere di vino. Il secondo pensiero, lasciare la bottiglia. Grazie."   Translation: Excuse me, more bread please!  And I'll have another glass of wine.  On second thought, just leave the bottle.  Thank you.
Guarda quanto e bello! 
Addio per ora i miei amici!
Fino a quando si MANGIA di nuovo!
Translation: Look how beautiful!  
Goodbye for now, my (unpolished) friends!
Until we EAT again!