SO HERE'S THE UPDATE:
Dropping the kids off at ski school on day one was a little weird.  My kids know NOTHING about the sport and we just left them there.  I mean, my older son's face was like a deer in headlights when we said, "Okay kiddo.  See ya later.  Have a great day, and look out for your little brother!"   Funny thing is that the little one didn't even know we had left.  His eyes lit up as soon as he saw the Magic Carpet and practically leapt on head first!
My husband and I looked at each other with total elation knowing that we would have the next six and a half hours to ski, eat, drink and people watch without the children!  Yup, total elation sounds about right!
It's been about twelve years since either of us have skied so we spent the morning with Pete Denise and took a private lesson.  I suppose skiing is like riding a bicycle, but we thought it would behoove us to brush up on the basics and get comfortable on the powder once again.  When I saw how Andy skied years ago I was really impressed.  When I saw how he picked it right back up as if no time had passed, I was even more impressed!  We probably didn't need need the private lesson, but what's another kachillion dollars?
NOTE TO SELF:  DON'T CHECK ON THE KIDS
At lunchtime, we decided to peek in on the boys and see how their first day was going.  We were so excited to watch them learn how to traverse down the bunny hill.  My six year old Harrison, looked like a natural and we were thrilled.  Ben, my eight year old was struggling.  To be honest, this didn't surprise me.  He's an intense, Type-A, perfectionist and I know that until it "clicks" he most likely will be mizzzzzerable.  When he noticed that I was watching from afar, he lost his shit.  "I hate skiing.  I can't do it.  I'm the worst.  I'm not coming back.  Harrison is so much better than me.  I don't care what you paid for this, I'm not skiing tomorrow."
At first I didn't know what to say, so I said nothing.  Then I did what any parent would do.  I took a deep breath, marched over to him, cupped his whiny little face in my hands and said:
"Ben, listen up.  You're doing great.  You gotta give it a chance.  You must fail before you can succeed.  You can't expect to "get it" right away.  Now pull yourself together;  Get up and get back out there!  Oh, and Ben?   Quit complaining.  This is a luxury, not a punishment.  You should be so grateful.  Dad and I love you very much.  We'll see ya at three-thirty.  We're going to eat our lunch now."
Needless to say, I never should have checked on the kids but fortunately, by the end of the ski day Ben's attitude had shifted 180 degrees and he was now a lover of the sport.  I even caught him eyeing the half-pipe.  I suppose the bitching was just to torture me.  What else is new?  Ma Nishtana.
MAJOR SCORE WITH THE ULTIMATE FOUR
I gotta tell you that Ski School is a well oiled machine.  They have this operation down pat.  You can't go wrong with any of the offered packages but we chose The Ultimate Four on Days 2 & 3.  One instructor to four children, two of which were our kids.  When the other two pipsqueaks are no-shows, essentially our boys get the instructor's attention for the entire day.  I'd say that's a MAJOR SCORE!  The boys gave me hardly any trouble suiting up the last two mornings.  By hardly any trouble I mean they gave me the trouble I expected but I'm at the point where I just ignore them and slam their feet into the goddamn boots.
I'm not concerned anymore when I drop them off.  My spiel sounds the same but with just one slight amendment.  "Okay kiddos.  See ya later.  Have a great day.  I'm definitely not checking on you before lunch, so we'll see you later this afternoon!"
I'm still in disbelief that this trip has allowed us the opportunity to drop the kids off at 8:45am and explore the mountain all day before picking them up at 3:30pm.  I'm not rushing it, but I can't help to think that this freedom must be what it feels like when the kids head off to sleep-away camp!
Since Andy and I are getting wayyyyy too comfortable pretending that we're in the "one percent" of the high rolling population that takes fancy ski trips we decided to hang out with Hank Frazier yesterday morning.  Hank has been a ski instructor for decades so he guided us through various trails on the other side of the mountain.  You know you're in capable hands when you're following any one of the experts dressed in the official Helly Hansen blue uniform!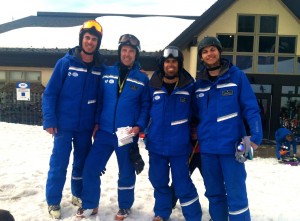 Before leaving us to fend for ourselves on the afternoon runs, he reviewed the map with me to ensure we wouldn't end up on some wild, black diamond terrain.  We weren't looking to be daredevils, we just wanted to get down the mountain without needing the help of ski patrol!
Speaking of ski patrol and the peeps in the Hansen blues, I must mention how nice everyone is here.  Every single person who works on the mountain has been such a pleasure to deal with.  Whether it was the dude who fixed the bindings on my skis or the chick who loaded them into the slots on the gondola, they are all kind and cheerful and each one of them is more willing to help than the next.  I'm not sure if it's because of all the mountain air they breath in…. or if it's the legal ganja….or both!  Whatever the case, it's working!  The Colorado folks are a happy bunch fo' sho!
VACATION DOESN'T MEAN MY CHORES HAVE STOPPED
I know we're on vacation but somehow I haven't been able to escape the laundry.  I've done a thousand loads since Monday afternoon and ironically the piles on the kitchen table here look very similar to those that are normally stacked on my dining room table at home!   No one has swam in a pool, yet I'm drowning in towels.  Go figure!
The demands for food haven't changed much either.  The kids eat from the moment they wake up until I drop them at ski school.  I know they break for lunch but obviously it's not enough food because the second I pick them up in the afternoon they're back to scarfing down whatever they can get their hands on for snack.   I've microwaved about thirty-two blueberry Eggo waffles, made about twelve turkey sandwiches, gone through approximately three bags of Tostitos Tortilla Chips, one package of family sized cheese sticks, a carton of Danimals Kids Yogurt & Smoothie drinks and two boxes of cereal.   It's no wonder we can't afford to go on ski trips more often.  Keeping these growing boys fed and their bellies full is an enormous expense!
BEG, BORROW AND STEAL
Overall, the trip has been amazing.  Better than we could have hoped for.  We have a couple more days and I'm expecting two big thumbs up from everybody.  To be clear, no one needs to feel sorry for us.  We're not gonna miss a mortgage payment and be on the streets but I can't seem to wrap my brain around how pricy this trip has been.  We are extremely lucky to have extremely generous family friends whom after only minimal begging on our part were gracious enough to lend us their phenomenal condo in the heart of the village.  Words can't express how grateful we are to be here.  Having a place to stay wasn't just a kachillion dollar savings… It was more like a gazillion dollar savings!
I didn't have a problem spending the dough on new ski gear for Andy and myself.  We'll have our stuff for ages.  However after thinking it through, it didn't make sense to outfit the kids who grow like weeds with expensive clothes the first year out.   A bunch of friends were kind enough to let me borrow jackets and pants for the boys.  I did splurge on buying them their own sets of Hot Chillys', pairs of wool socks, hip hats and a few North Face fleece tops!
I'm happy to report that I haven't stolen anything too substantial.  I mean, I'd like to show my face again next season and if I start stealing street signs just because they share the same name as my favorite little one-year-old-girlfriend I may have problems being welcomed back.  In lieu of ripping out the aluminum, I'm using my better judgement and opting to shoplift only a few pens and notepads with her name on it instead!
SHAWTY HAD THEM APPLE BOTTOM SKI PANTS… BOOTS WITH THE FUR…
It would be a crime not to touch on the fashion that goes on around here.  I really wonder if people ski half as good as how they look.  Everyone is seriously stylin' in their color coordinated outfits.  There are so many accessories that it's hard to keep track of what you need versus what's actually just for show.  I guess if you can't ski like a bunny, you might as well look like one!
To put it bluntly, in the words of my old college friend Rachel Zoe (Rosenzweig), "I literally died when I saw the ski options.  Options are everything.  I mean, the jacket you wear is kind of maj.  I was on the chair lift with a woman in a fur vest and it was bananas!  I was like, "Babe, you look incredible.  Is that vintage?  I can't believe you actually ski in that fur vest.  You actually ski in that fur vest?  OhMyGod.  Shut. The. Front. Door."
I'm kidding.  I didn't say any of that.  But I thought every word of it.
I could sit at the bottom of the mountain with a Blue Moon or two and just watch the scene.  Actually, that is exactly what I have been doing every day during my Apres Ski Hour(s).
IMPLODE THEN EXPLODE FROM ALL THE CARB LOAD
Vacations can't be too long because people like me eat, ski, drink and repeat for hours on end.  After four or five days it starts to weigh you down.  The million dollar ski pants I bought myself are a little tighter than they need to be.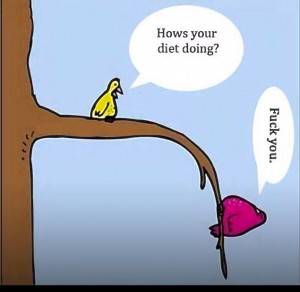 I can only blame myself though.  No one was forcing me to have another round or three at lunch.  I did that all on my own.  No one was forcing me to order the lobster sandwich on a ciabatta bun either and no one had to twist my arm to throw it all down with a side of parmesan truffle fries.
The ironic thing is that every time I go on vacation my intention is to eat clean.  This trip was no different.  I brought zip lock bags of chia seeds, ground flax, protein powder and hot cayenne hoping that I would continue my usual routine here in Vail.  Suffice it to say, the only thing I've unzipped are my pants because they no longer fit.  I've fallen off the wagon big time and lost my healthy way.   I can't worry about it now though.  I'll deal with it when I get home since getting back on track with my eating will be the least of my problems when I see what my AMEX bill looks like!  After the week we've had we'll probably only be able to afford Ramen noodles for a while!  Screw it!  It's vacation.  We had a ball and that's what matters the most!
JUST TO LET YOU KNOW… Obviously, all good things must come to an end.  We're about to wrap the trip and I plan to leave on a high.  My goal of skiing together as a family with the kids for one afternoon was thee Best Score for MY Ultimate Four.  We might be flat broke after a week in Vail, but it was well worth every penny spent.  God willing, I'd do it all over again as fast as you can ski down a double black diamond trail.