Sometimes the obvious is right in front of our eyes but in order to see it clearly we need the assistance of others.  This was recently the case in my humble abode.
Perhaps you remember me bitching in the past about my housekeeper.  The main problem is that the only thing she is good at keeping is the one hundred dollars I pay her, and she's more interested in cleaning out my wallet than she is in cleaning out my garbage cans.
After various weeks of frustration, she was causing more aggravation than it was worth and enough was enough!  I knew it was high time to figure out an exit strategy.  I was ready to channel my best Donald Trump and give her the 'ol "You're Fired."
Although my household is far from a corporate enterprise, I felt as though it was important to have some documentation as to the reasons that I would be letting her go.  I decided to enlist the help of my 8-going-on-38 year old son to help gather the ammo I needed in order to justify heave-hoeing her ass once and for all.
I told Ben to look for some hard proof to confirm her laziness.  I asked him to watch her closely and report back all of his fact findings.  This task was right up his alley…. It was like Sherlock Holmes meets a cross between Inspector Gadget and Blues Clues!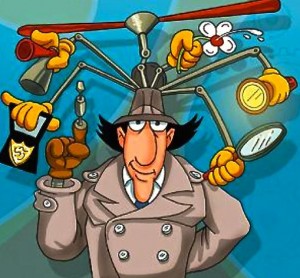 I reminded him that in order for this mission to be successful he needed to be very discreet!
He enthusiastically grabbed a notepad and was ready to hunt for clues.  He couldn't wait to "sit down in our thinking chair and think, think, think!"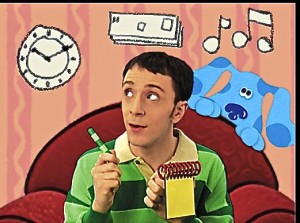 This was his note pad, that only he could touch:
The pictures below illustrate his fact findings.  I will attempt to translate as best I can.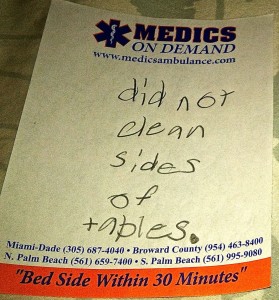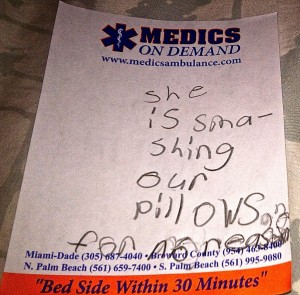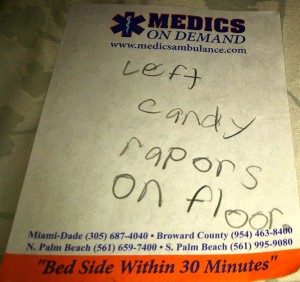 To clarify, the said gun that she left behind the pillow was obviously not real.  I also had no idea we had a frog living in our home so I'm hoping the one she hid on a top shelf isn't real either!
Based on Ben's overwhelming evidence, (and the real laundry list of crap that wasn't getting done) what came next is pretty clear.  Facts don't lie.  The proof is in the pudding;  Or in this case…. the pudding was left all over the counter and my cleaning girl never bothered to clean it up!  Firing my housekeeper was not a tough decision.  With the help of my dear WatSON, it was simply elementary!
JUST TO LET YOU KNOW… This is not the first time I've had to fire a housekeeper, and I'm quite certain it won't be the last.  They all come out of the gate strong, using their impressive elbow grease to go above and beyond.  Initially, their willingness to please is remarkable!  They arrive on time and stay until dusk.  Unfortunately, once they get comfortable they begin to rest on their laurels.  The work day becomes increasingly shorter and shorter and the excuses become longer and longer.   That is of course, if they even bother to show up at all.  Sadly, the revolving door of subpar help is inevitable.
If any of this sounds familiar and you need some assistance collecting proof, I'm sure Ben would love the chance to play lead detective Sherlock Holmes and help solve the case in any of your holmes too!