[slideshow id=30]
When my friend's Mother was diagnosed with Colon Cancer a year and a half ago she knew her life was about to change.  What she didn't know, nor what she couldn't have ever imagined was to what degree and in what capacity those changes would manifest.
When the doctors told her Mother that the treatment called for twelve rounds of chemotherapy over a six month period, it went without saying that Courtney would be by her side every step of the way.  Courtney's sister-in-law Simma would also play a huge role in offering support.
Their Story
They needed to keep their Mom distracted as the chemotherapy was being administered while at the same time keeping their own minds busy.
Coincidentally, Courtney, an attorney by education and Simma, a teacher who has a fashion background both attended a beading class a few months prior.  They decided to test out their newly learned skills so they strung together beads and paired it with a Green Jade Buddha for their wrists. The women vowed to wear the bracelets as a symbol of good luck and good health while their Mom battled her disease.
Round after round the women would sit in the hospital making chic, innovative and beautiful pieces by hand as they drew inspiration from their courageous Mother.  It didn't take long before their creativity caught the eyes of others.  One day, a social worker from the Cancer Center asked them if they would be interested in selling their jewelry in the hospital lobby for Breast Cancer Awareness Month.  Needless to say, Courtney and Simma were humbled.  They accepted this offer, strung together hundreds of beads using pink as the accent color and graciously donated 100% of the proceeds to Breast Cancer Research.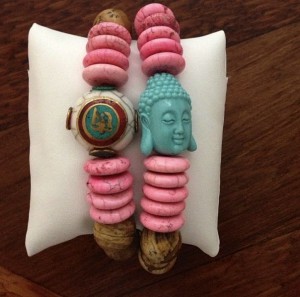 Since then, many other charities have been anxiously jumping at the chance to showcase the spectacular merchandise.  At the time, no one would have expected that the Green, Jade, Buddha Bracelets originally labored out of love from Courtney and Simma's hearts would end up being the start of their highly successful brand, Beaded Heartz.
Pretty Or Gritty… There's Something For Everyone
 Beaded Heartz can be described as a bridge jewelry line.  It's not costume jewelry, yet it is not fine jewelry.  They do not copy name brand designs, which is why I love the line so much.  Nothing bothers me more than a knock off.  If you can't afford the real thing, don't buy it!   What attracted me to Beaded Heartz in the first place was the fact that Courtney and Simma weren't following the trend….. They were setting the trend!   Right from the get-go I knew Beaded Heartz would be a super cool way for me to turn up the volume on my own sense of style!
Every piece is created using real stones and beads, some of which are found at antique shows.  Moonstone, turquoise, baroque pearls, quartz, hematite, and micro pavé diamonds are just some of the precious gems used for bracelets, earrings and necklaces.  The variety is endless and most of the pieces are designed with versatility in mind so that you can wear them in a multitude of different ways.  Personally, I think it looks really chic to layer, stack, mix and match!
When I'm having a gritty kind of day, I love to pile on my Beaded Heartz leather bracelets. The black LOVE bracelet with the skull is my favorite, however the first time I wore the brown one with the brass hardware I was stopped by two different women who wanted to buy it right off my wrist!
A Wife Beater & Some Beaded Heartz & I'm Good To Go
I wear a ton of wife beaters.  The only thing better than throwing on a crisp, white one is pairing it with a Beaded Heartz necklace.  SInce the wife beater is one of my wardrobe staples, I like to constantly change the way I accessorize.  Being a chameleon comes in handy when you have many options to choose from!
[slideshow id=31]
A beaded necklace with Tibetan accents and brass with turquoise and coral inlays was my first Beaded Heartz purchase.  One word: UHHHBSESSED!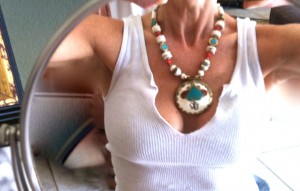 Speaking of obsessed…. I'm still in love (and will always be in love) with pearls.  I wear strands of them as often as possible.  I started salivating when I saw the Beaded Heartz baroque pearls on a leather cord.  The very thought of combining classic pearls with baroque pearls on an edgy leather cord was right up my alley.  I immediately added it to my collection!
FIERCE, FUN, FLIRTY, FANCY…. FLABBERGASTED!
Courtney told me her all-time high: "I was at a hospital fundraiser and the attire was black tie.  I noticed a woman wearing one of our designs and it blew me away.  My husband encouraged me to introduce myself and sure enough, I was right.  She was wearing baroque pearls by Beaded Heartz!  That was a huge moment for me."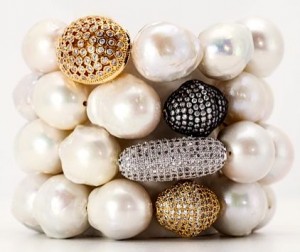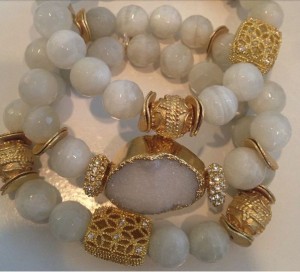 Though the success of Beaded Heartz as a business is thriving and growing at a rapid pace, I'm so happy to report the best success of all… Joyce, Courtney's Mom is in remission and doing very well!  I wish Joyce, along with all the Moms out there a wonderful Mother's Day filled with good health and happiness.  May your heartz always stay filled with love and laughter.  Even though I don't normally wear my heart on my sleeve, I have no problem wearing my Beaded Heartz on my sleeve and around my neck too!
JUST TO LET YOU KNOW… With Mother's Day just around the corner, Beaded Heartz makes the perfect gift for someone special.  Currently, Beaded Heartz is running a promotion on their unique custom charm bracelets.  You can pick and choose from an array of colors, stones and charm options to create a one-of-a-kind token for your loved ones.  Obviously, I can't wait to design one for my Mom.  (Whoops!  Mom, if you're reading this blog… act surprised on Mother's Day!)
[slideshow id=32]
For all the details and a look at the complete line, check out their Beaded Heartz website by  clicking here.  You can follow Beaded Heartz on Instagram @Beadedheartz, and Beaded Heartz  on Facebook. For further information you can contact Courtney and Simma at info@beadedheartz.com.  Beaded Heartz is currently sold in stores in Boca Raton, FL; New York, New York; Manalapan, NJ; Washington D.C.; Kensington, MD and Marblehead, MA.