I saw a clever picture today that made me laugh.  It's so simple yet it leaves so much room for interpretation.  The unpolished humor is witty and gritty so it makes logical sense that I'd add it to the THAT'S FUNNY section of the blog.
Have at it: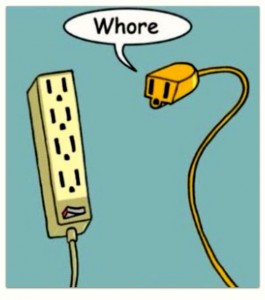 When I first saw the picture, obviously I thought it was clever enough to post so I took a screen shot on my phone and then quickly texted it to some of my peeps who share a similar unpolished imagination.
 I was shocked (and actually really let down) when I got one reply that said:
"I don't get it!  I'm very bad getting jokes."
 I fired back with:
 "Ur kidding, right?"
 The next responses were:
 "No, I'm serious.  No idea."  
"I'm not even joking.  Something about the switch on the bottom?"
 JUST TO LET YOU KNOW… The fact that my friend has completely missed the point here actually makes the whole thing that much funnier to me.  I know I'm warped, but you get the joke, don't you?  Seriously, please tell me you get the joke!