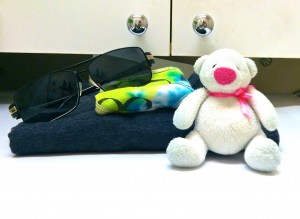 I love it when I hear a great story and it sticks with me.  A friend's Mom once told me a great one that still makes me chuckle.  When she was young and being newly pursued by her now husband, she accidentally left her earring at his house.  Surely she would need to retrieve what rightfully belonged to her so she used the earring as the perfect excuse to set up the next date.
"I think I may have misplaced my earring.  Oh you found it?  Wonderful.  Oh, you'd like to come drop it off?  It's not too much trouble?  That would be sooooo kind.  Thank you."
Purposely leaving behind a little bit of this or a little bit of that in the hope that it will lead to seeing another person again is classic!  Coining her premeditated act as leave behinds, I'd say this clever tactic worked brilliantly given she just happily celebrated fifty years of marriage!  As an aside, you should see the earrings she wears now.  I assure you the only place she's leaving them behind is in the vault!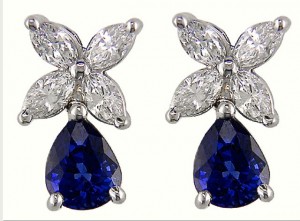 "LEAVE BEHINDS" IN MY WORLD ARE NOT THAT ROMANTIC
I really enjoy entertaining and often have a revolving door of family, friends, neighbors and sometimes the occasional stranger in and out of my home.   Most of our peeps know we have an open door policy and they are sincerely welcomed to swing by at the drop of a hat.  Upon entering the foyer, it's a safe bet you'll be offered plenty to eat and drink and drink and drink.  It's doubtful you'll leave hungry and it's a guarantee you won't leave thirsty.
However, I have noticed a trend among our guests that's starting to become an issue.  The problem is that when the fun ends, the actual people leave but inevitably some of their crap doesn't.  Without fail, everyone who hangs out at my home ends up "leaving behind" one thing or another.  Just in case I didn't have enough of my own shit piled up in the laundry room, now I have the pleasure of babysitting my friends' random, leave behind shit also.
WHEN I SAID IT'S OKAY TO SWING BY AT THE DROP OF A HAT, I DIDN'T MEAN SWING BY, DROP YOUR HAT AND LEAVE IT HERE!  
THE OPPOSITE OF FINDERS KEEPERS LOSERS WEEPERS
I'm not exaggerating when I tell you it looks like I have enough inventory to stock a kiosk full of  Floridian tourist accessories.  It's no joke.  You would be amazed at what I've accumulated.   You name it and I promise someone's left it behind.
The LOST & FOUND section of my home includes various sizes of male and female bathing suits, T-shirts, underwear, sunglasses, hats, goggles, umbrellas, an odd number of sneakers, mis-matched pairs of flip-flops, ceramic serving dishes, plastic tupperware containers, hairbrushes, ponytail holders, lip gloss, nail polish, stuffed animals, burp cloths, basketballs, water bottles, earphones and thermoses.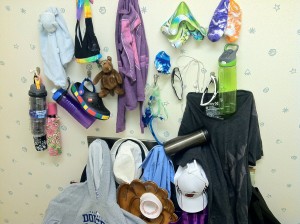 Seriously, who leaves just one shoe?  How does that even happen?
There was one instance when a friend actually left behind his wallet and house keys.  I swear, he left without taking his wallet AND house keys!  It wasn't until he got all the way home before he realized he was locked out.  So far that's been the best "leave behind" we've ever had and totally worth the laugh when he had to drive all the back to our house to retrieve his shit.
"Well, it shouldn't be a total loss…"  
"You wanna stay and have a beer?"
CLEAN UP, CLEAN UP, EVERYBODY EVERYWHERE…… CLEAN UP, CLEAN UP, EVERYBODY DO YOUR SHARE!
Okay, listen up!  You are more than welcomed in my home but the excessive leave behinds are getting out of control.  Let me be perfectly clear: I honestly mean it when I say, "Come over.  I'll gladly feed you.  I'll definitely get you drunk.  I'll braid your kid's hair and we'll have a great time."  You always have an open invitation to hang out but only if you can remember to clean up your shit and TAKE IT WITH YOU when you leave.  Not just some of it…. You need to take ALL OF IT!  There is absolutely no need to leave behind your junk as a ploy to see us again.  Trust me…. We want to see you again too, but not at the expense of having to store your crap.  Comprende?  Good!  Now grab your hat and come on over… The front door is open!
JUST TO LET YOU KNOW…  I've maintained the clutter I've gotten stuck with in the same OR BETTER condition than it was originally left in.  As examples:  If you've left your wet bathing suit in the bathroom or your kids' dirty socks in the backyard, I've laundered them for you.  If you've left your fancy water bottles behind, I've ran them through the dishwasher.  Fortunately, I haven't grown attached to any of your shit, so if you don't claim it, consider this fair warning that I'm finally getting rid of it once and for all.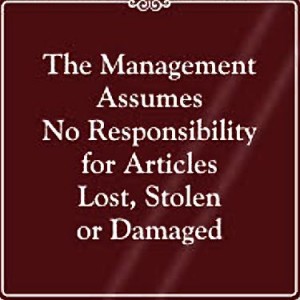 Oh and lastly, to the person who left your designer, prescription sunglasses here…. REALLY?  Don't you need them to see???