I'm blasting out a big, unpolished thanks to my P.C. friend, Erin for sharing a letter she received from her daughter's camp BFF.
This really made me say:
"That's Funny!"  And If You Don't Agree, There's Something Wrong With You!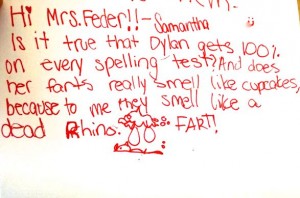 JUST TO LET YOU KNOW… The P.C. in "my P.C. friend" obviously does not stand for Politically Correct!   It stands for Park City.  I L-O-V-E what that Utah air has done for my girl's sense of humor.  Keep on keeping on, Erin and thanks again for the great laugh!  Let's hope these readers appreciate the unpolishedness of this letter as much as we did!