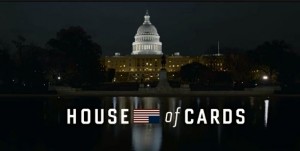 Nope, I'm not whipping up Sizzlean.  It's more like SIZZLE-MEAN.
For the better part of the last two days I've been home filling my dance card with the highly acclaimed American political drama series, House of Cards.
Forget about six degrees of Kevin Bacon.  My head is spinning three hundred sixty degrees from the whiplash that is Kevin Spacey!
Spacey plays Francis (Frank) Underwood, a Democrat from South Carolina's 5th congressional district and House majority whip.  He's a manipulative mastermind in a "don't worry, I can help you" kind of way.  He's concocted a plan albeit ruthless and dangerous in an attempt to (re)gain the power he believes should have been his in the first place.  Southerly charm notwithstanding, his tactics are cutthroat and cunning.  If you looked up either of those adjectives in the dictionary, there could be an 8×10 glossy of the Congressman.
You Had Me At Hello
The storyline is fabulous for the unpolished junkies out there who thrive on the so-called political deceit and dirtiness that goes on behind closed doors in Washington.  Regardless of what's fact or fiction, the writing is phenomenal.  I was hooked from the very first frame when Spacey stares directly into the camera before euthanizing an animal with his bare hands and says,
"There are two kinds of pain. The sort of pain that makes you strong, or useless pain. The sort of pain that's only suffering. I have no patience for useless things." -F.U.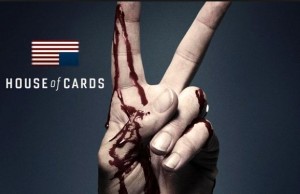 The cadence of his Southern drawl is smooth and slow.  I have yet to hear him pump up the volume above the octave level of an inside voice.  Ironically, the calmer he speaks, the more chilling his directives sound.  I'm scared shitless of that sharp whip!
"Nobody's a boyscout; Not even a boyscout." -F.U.
"The road to power is paved with hypocrisy, and casualties." – F.U.
"A great man once said, everything in life is about sex.  Except sex.  Sex is about power." – F. U.
"I'm not gonna lie.  I despise children.  There, I've said it." – F. U.
He's The Chief Whip, But She's Got A Mighty Tight Grip
We've all heard that "behind every great man there stands a great woman."  In the case of the congressional whip's first lady Claire Underwood, perhaps one might say, "behind every conniving schemer dressed in a pinstripe suit there stands an even more conniving schemer dressed in a unbuttoned button-down shirt and a tight pencil skirt."
Robin Wright's character Claire is sophisticated, stunning and smart; AND I DON'T TRUST HER FOR A SPLIT SECOND!  The duo appears aligned and to some degree I believe they are.  However, my gut instinct tells me she's got a separate agenda and won't hesitate to use her own set of sneaky skills in order to satisfy both her professional and personal needs.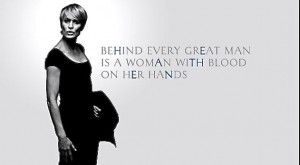 I wouldn't want to be on the opposite side of the aisle from Frank Underwood, but I wouldn't want to be on the opposite side of anything from Claire Underwood.  I don't yet know what kind of hand she's playing, but I'd be willing to bet my House of Cards on her.
Poker?  I Barely Even Know Her
Don't underestimate the subtleties made by the supporting cast.  White House Chief of Staff, House Representatives, lawyers, lobbyists, influential billionaire businessmen, newspaper editors, prostitutes, and former Washington Herald reporters are just a few of the gamers vying for the big stakes.  No role is too small and no move too uncalculated.  Everyone's got their own hand to check, raise or fold in this House of Cards unless of course, their bluff is called first!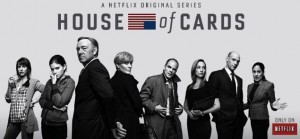 JUST TO LET YOU KNOW… I whipped through the first thirteen episodes of Season One in less than 48 hours.  I'm now cracking the whip on Season Two.  It doesn't surprise me House of Cards was a Primetime Emmy, Golden Globe, Writers Guild of America and a TCA nominated series in 2013 and currently a big contender for this year's upcoming awards season.  It's an unpolishedly smart, sassy and scandalous series that I know will suck you in quickly.  If you haven't already began shuffling the deck, I strongly suggest you do.  Get in your House and start playing Cards.  C'mon, just do it, or else I'll have to whip your majority ass!