It's Friday!  Major congrats to all the folks who sent their kids back to school this week.
How'd your transition go?  I hope it was a little smoother than mine.
Ready Or Not… Here They Come
Initially, we started out great Monday morning.  Kids up, dressed, breakfast ingested (which never happened last year) and out the door they went.  School bus for one, a drop off on the carpool line for the other and by 7:30am both boys were on their way to begin a new year.  Ready or not, first and third grade here they come!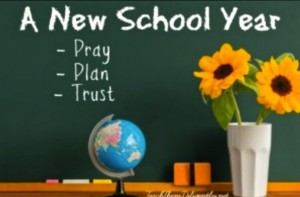 Cautiously Optimistic?
I popped a Xanax at about 1:30pm to offset the afternoon anxiety that having both kids home at the same time usually creates.  I figured I would arm myself in advance instead of waiting to get stuck in the shit storm that inevitably always blows my way.
I picked up my younger son at 2:05pm.  I had my fingers crossed he would come out of the door with any expression even slightly resembling happiness, since last year he mostly looked like a sourpuss.
I was blown away when he greeted me not only with a smile but with a giant hug too.  "Things are off to a superb start," I said to myself as I let out a sigh of relief.  We then walked home in what must have been temperature of 101 degrees.  The school was only across the street, but we were both absolutely dripping from the sweltering heat.  I did come prepared with a freezing cold water bottle to quench my son's thirst but apparently that wasn't good enough.  He was hoping for a Gatorade.
It went downhill from there.
We jumped in the car and drove to the bus stop to pick up my older son.  The bus was late.  About thirty minutes late to be exact.  My little one was getting impatient and hungry.  Not wanting to sit still in the car, he ran into the clubhouse and finagled a dollar from the lady who works in the office so he could buy himself that Gatorade he had been craving.  If hustling is part of the first grade core curriculum, he'll breeze through with flying colors!
When the bus finally arrived, my brand new third grader appeared to have a spring in his step.  "Phew,"  I said to myself.  It seemed as though I was two for two in the successful first day category!
Me: "How'd it go, kiddo?  Was it a great day?"
My Kid: "My class isn't good this year, but my teacher is soooooo pretty."
I can't say that was the reply I had expected but at least he didn't bitch about the bus being delayed.
LAYING DOWN THE LAW
This year I refuse to be a pushover so I've laid down the law.   Prior to Day #1, I explained the after school routine so there would be no surprises.  Both kids were completely aware of my commitment to making sure effective immediately the rules stay enforced.  It's pretty simple:
1.  Snack for brain power.
2.  A few minutes of down time to decompress
3.  We hit the books.
I Thought It Was Pretty Simple But…
The snack turned into a full blown meal because the lunches I packed did not meet their expectations.
"Mom, can I buy lunch tomorrow?  Yours wasn't good."
The few minutes of down time to decompress turned into a varsity wresting match ending with one kid crying, the other one sent to his room and a broken picture frame that had accidentally gotten knocked off the shelf.
The hitting the books part didn't go well either.  My little kid started crying (again) the second he heard me utter the word book while my older kid complained he wasn't ready to read yet because he was still hungry.
I won't bore you with the rest of the details but suffice it to say I had a bottle of wine opened before 4pm, and had called in a refill for the Xanax shortly thereafter.  Otherwise, it would have been a miracle if I didn't end up on the evening news with the headline:
"Calling Social Services: It Only Took One Day Of School For Local Mom To Lose It On Her Pain-In-The-Ass Ungrateful Kids!"
SOME OTHER WEEK ONE UNPOLISHED HIGHLIGHTS SPOKEN BY MY THIRD GRADER:
"I can't make my bed during the week because I'm busy, but I promise to make it on the weekends because I'm free."
"I know you're probably gonna say no but I just have to ask.  I really think I need a phone because what if I need to be in touch with you?  I feel out of sorts when I can't reach you, like on the bus and stuff.  I think I would feel better if I had a phone.  But not a crappy phone like the one you have.  A good one.  Like the new iPhone."
"Um Mom?  Not to judge you or anything, but the lunches the last two days?  Well, they've been terrible and it sets me down a bad road for the rest of the day."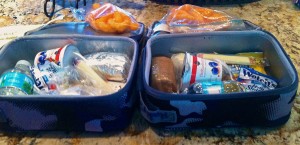 So Good Luck With That
This year, I have vowed to stay on top of the ridiculous amount of paper flyers that are bound to come home in the folders every single day with subliminal messages on them.  Subliminal is my way of being nice, but in unpolished terms it means constantly being bombarded to stroke a check!  Ten dollars here….  Twenty dollars there…..  Adopt-a-Class…. Or put your child's name on the sign out front…..  Blah blah.  Blah, blah, blah.
You know what kills me the most though?  My boys outright torture me when I try to encourage them to read a book, yet when that damn Scholastic Book Fair pamphlet comes home they beg and plead and beg and beg and then beg some more for me to buy them books.  If they're nevvvverrrr gonna read it, why do I have to buy it?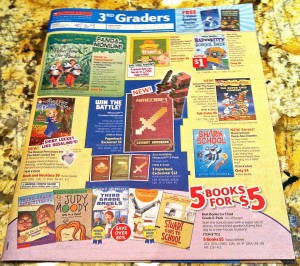 So with one week under our belts and wayyyyy too many left to count, I have no choice but to grin and suck it up!  I suppose I'll muddle through and I know you will too!
I wish you all a safe and wonderful school year.  May your children thrive as their minds become enriched grasping many new concepts without driving you crazy when you undoubtedly will have to explain the homework.  That is of course if you can figure it out!
May your children try their best and work hard to reach their highest possible potential without your needing to be high in order to motivate them to do so.  And finally this year, may your children shoot for the stars to achieve excellence without making you want to shoot yourself in the process!
Oh, and for all those parents kids who are required to participate in the Science Fair this year… Yah, so good luck with that!!!!!!!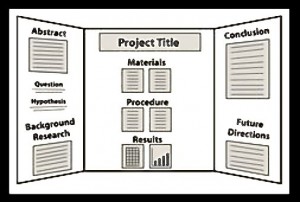 I'M DEFFFFFFINITELY CALLING OUT SICK THAT DAY!
JUST TO LET YOU KNOW… Probably not means probably not.  It doesn't mean maybe!  Also, my third grader may have convinced himself he's getting a phone, but I absolutely haven't agreed to that.  He's a mighty fine negotiator but he'll have to come up with a more persuasive argument other than needing me to be reachable.  The reality is, if I was any more reachable he'd reach right back up my vagina and stay there forever!