My mind is constantly spinning in circles.  Around and around and around.  It spins all over the place that often my thoughts overlap and collide into one another.

Allow me to explain by example:
1. Unpolished Peeps Don't Get Much Sleep
I'm a self-proclaimed vampire who loves staying up late into the wee hours of the night.  While the rest of the world gets ready to pack it in, I am first gearing up to reflect on the day's past.  Secretly reveling in the darkness, I have a deep appreciation for my ability to not only enjoy being awake and alone in my hidden, quiet quarters but also for being more productive in the middle of the night than I ordinarily would be during the hours of a typical work day.
That said, I got a huge kick out of an article I came across in Elite Daily that pretty much sums up (and validates) my thought process.
In my unpolished opinion the article titled, Intelligent People All Have One Thing In Common: They Stay Up Later Than You hits the unpolished nail on the unpolished head.
"……It's by night that we see our true desires……  It's when we become poets and philosophers, martyrs and murderers."  
Okay so the murderer part doesn't apply but stick with me.
"……..The night is for passion.  It's for fanaticism, romance and trouble.  It's when your most tender, authentic and suppressed sides come out to play under the nonjudgemental eyes of the stars."
"….The night is for testing your limits and challenging yourself."
The article goes on to state that "staying up late has been, and always will be, an act of rebellion.  A defiance of the nine-to-five."
That sounds kinda unpolished, right?
Here's one of my favorite parts:
"…..It's no surprise that those willing to stay up late, to explore the uncharted territory of night, are more inquisitive.  They are more apt to make discoveries and challenge authority.  They want to expand their mind, not shut it off just because people tell them it's time for bed…….
The night owls are more open minded.  Things that happen at night are things that you can't get away with during the day…..  It's when geniuses have their breakthroughs and artists come alive.
…..Those who are willing to stay awake, who yearn for the mysteries of nightfall, are exposed to an array of discoveries that those who stay asleep will never know."
So I can't help but wonder….. How many of my unpolished peeps out there have sleepless nights too?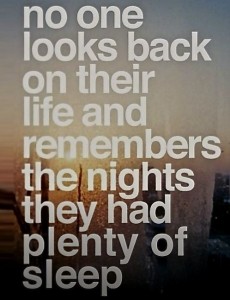 2. Speaking Of Sleepless Nights…
Last night I was Sleepless in Seattle (by way of HDTV in the family room, playroom and office) as the 2014 NFL season kicked off.  Just because I'm the odd woman out in my household doesn't mean I'm out of the football loop.  As a matter of fact, I'm the only one who made it up past halftime.  In reality, that doesn't surprise me.  I'm just happy that in [our] fantasy [league] the boys stayed awake long enough to finish drafting their players and choosing their starting lineup for the first game without any major mishaps.
To football fans everywhere, here's to the next seventeen weeks of excessive beer, barbecues and bacon!
3. Speaking Of Bacon… JON HAMM?  HOT DAMNNN!
When it comes to male facial hair, I've always been a big fan of the rough and scruff five o'clock shadow.  However, ever since the 66th Primetime Emmys aired two weeks ago, I can't seem to get the image of Jon Hamm's perfectly manicured beard out of my head.  I mean, it is groomed with such precision I think it deserves an award of its own!
If you know anything about growing (and maintaining) a beard of that caliber, you know it takes some serious commitment.  According to Hamm's personal beard handler Diana Schimidtke, in preparation for the Emmys, after cleansing and toning with Revive Balancing Toner, she applied Revive Moisturizing Renewal Cream for a hydrated foundation.  To help the beard look polished, she starts with a wet shave under the chin to create clean lines.  After trimming stray hairs, she sprays a disposable mascara wand with hairspray and brushes it through.
Fellas, take note… I realize it seems like a lot of work but if you're gonna go all in, for the love of the beard (and the people who have to look at it) GO ALL IN.  Don't groom half-fast!  Take pride in the art of manscaping and show a little sticktoitiveness!  A perfectly polished beard is one of the few exceptions that trumps the unpolished stubble I usually find to be more aesthetically pleasing.
To quote a girlfriend of mine who's husband had been sporting heavily coiffed whiskers for about a year:
"You're starting to look less like Ben Affleck and more like Saul from Homeland."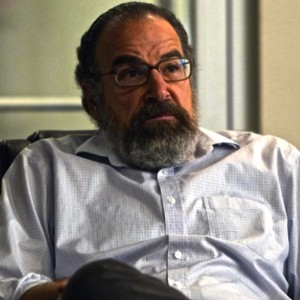 Maybe you need to know the players, but the first time I heard her utter those words I nearly spit my drink halfway across the table!  This classic one-liner will go down in Silver Unpolished history as a frontrunner in the That's Funny archives cuz: A.) It screams unpolishedness and B.) It's fucking hilarious!
4. Did Someone Say HOT DAMNNN?
Have you spied the celebrity pics that got leaked on the Internet this week?  Move over Lizzy Caplan.  My new girl crush is Jennifer Lawrence.  At first I couldn't figure out why anyone in their right mind would take naked selfies knowing their phone had an activated iCloud feature.
Rookie Move = Epic Fail.
After seeing the images first hand, the equation has changed.  Jesus Christ, if I looked like that I would selfie the shit out of myself and iCloud it everywhere.  Go ahead bitch, hack me!  
Jen, don't fret for even a sec.  You are a smokin' hot piece of ass.  And speaking of ass, yours is in no uncertain terms, Assmazing!
5. ASSMAZING
This week I got various emails and a handful of texts after using the word Assmazing in a recent blog post.  I'm glad you dig the word.  I dig it too.  It's so unpolished.  This adjective will not leave you guessing about its meaning.  It has just the right amount of descriptiveness to clearly define an ass that is amazing!  There's nothing to be dazed or confused about.  It's self-explanatory.
6. Dazed & Confused
You wanna know what isn't Assmazing?  The third grade.  The third grade is more like a big pain in my ass.  Specifically, an assWHOLE of shit I don't understand.
Wednesday I attended curriculum night and after observing a slideshow about what to expect this year, I can now intelligently infer that if it were me instead of my kid who was enrolled in the third grade, I'd most likely fail.  I was both dazed and confused for the entire hour and I promise I was only drinking bottled water!
So that concludes the six degrees of unpolishedness folks.  It's just a hunch but do you think it's possible the reason I'm dazed and confused about the third grade could be because many of my sleepless nights are spent watching too much football and obsessing over Jon Hamm's facial hair while trolling the Internet for Assmazing pictures of naked celebrities?  I think it's definitely an unpolished possibility!  Do you?
JUST TO LET YOU KNOW…  If I've wet your appetite enough that you're now curious to see the infamous celeb selfles and you can't find them yourself, feel free to ask!  Simply reply in the comments section below or send me an email to silver@silverunpolished.com and I'll happily share the unedited, unpolished and Assmazing links!