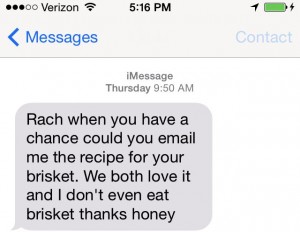 I love food.  I love to eat the food more than I like to prepare the food.  Reason being, I'm not that good of a cook.  To say I'm a decent cook is a stretch, but at least I try.  I'm a huge proponent of we're having breakfast for dinner tonight, but my boys tend to veto that option almost every time I suggested it.
I'd be in real trouble it wasn't for the BBQ.  It's easy to throw on some chicken breasts and a few veggies and call it dinner.  When I think the kids are starting to get bored with the same old same old, I just change the marinade and voilé…. Mom's servin' a new dish!
Of all the concoctions, there's only one dish in my meal making repertoire that gets a standing ovation every time.  Brisket.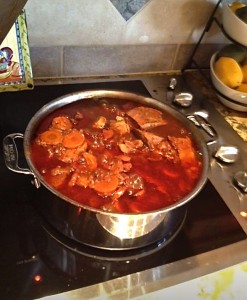 I started making brisket ages ago.  I didn't have kids then.  I wasn't even married.  I'm pretty sure I was trying to impress a boy so I offered to cook him a meal.  He asked for a brisket.
"Brisket?"  I said to myself panicking.  "How the fuck do you make a brisket?  I hate brisket."
I couldn't ask my Mother because her "secret family recipe" was the reason I used to gag over brisket in the first place.  No offense Mom, but when the only two ingredients other than the brisket itself are water and a bay leaf it's not a surprise that nobody's lining up for seconds!
So I called a girlfriend for help.  My girlfriend called her Mother, who then called me and gave step by step instructions on how to make a brisket.  I must have called her back sixteen times with forty-two questions before I was ready to take on the challenge myself.
Eighteen years and hundreds of briskets later, I've got it down pat.  It's soooooo easy and the best part is getting to watch my loved ones devour every last bite.  The brisket has become a staple in my family not just for holidays, birthdays and get well wishes but for rainy days, Sunday football and random hangout play dates with friends.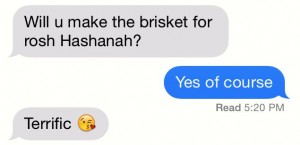 It's such a big crowd pleaser that my son even requested it as one of his first homecoming meals from sleep-away camp this summer!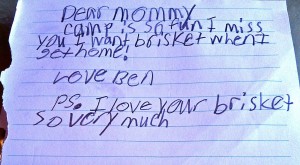 JUST TO LET YOU KNOW…. Since many have asked, I'm happy to share the recipe but be forewarned, when it comes to the details of how much of this or how much of that, the truth is I really don't know!  I kinda just wing it depending on how many people I'm feeding.
I suppose that's what you call cooking unpolishedly!
"Vivian's Famous Brisket" 
First Cut Brisket
 (Way back when, I didn't know what a First Cut of brisket meant.  I'll never forget saying to Vivian, "Whaddaya mean, first cut the brisket?  Like, when it's raw?  How do I cut the brisket if it's raw?")
Lipton Onion Soup Mix (dry mix rubbed onto the brisket)
Large Onion (chopped)
Garlic (chopped)
Whole Potatoes Cut Up (I use canned potatoes because I'm unpolished, but feel free to boil, peel and cut fresh potatoes should you be inclined)
Sliced Carrots (Again, I use canned carrots because I'm unpolished.  Feel free to get carpal tunnel in your wrist from peeling raw carrots should you be inclined)
Chili Sauce
Diet Coke  (I have no idea how much.  Just eyeball it.  Maybe a can.  Maybe a can and a half)
* Everything gets thrown into a large Reynolds oven bag and then the bag is tied TIGHTLY!
* Place the bag in a disposable tin tray and poke about ten holes around the circumference of the bag with a toothpick to allow for the steam to release.
* Put tray in a preheated four hundred-ish degree oven for a longggggg time ( approx 3 hours and/or until the aroma of the brisket can be smelled throughout the entire house, from the garage and down the street!)
* Leaving the brisket AS IS in the sealed oven bag, store in the refrigerator overnight.
* Once cooled (the next day, which is the day you plan to serve) remove the veggies and all liquid from the oven bag and transfer into a large pot.
* The brisket should be sliced thin against the grain and transferred back into the pot with the other ingredients.
(To get the most flavor, it's always better to start the brisket a day ahead of time.  Because I typically don't get my act together to begin prepping until late at night, it's too difficult to slice the brisket when it first comes out of the oven.  This is why I refrigerate it unsliced overnight.  It's much easier to slice meat when it's cold and when you're not bleary-eyed at three o'clock in the morning!  However, should you find yourself cooking at a less unpolished hour,  by all means cool the brisket and go ahead and slice it before refrigerating overnight.)
* Keep the brisket on the stove top over a low flame for a longgggg time.  (You can't overcook brisket unless the heat is too high causing the meat to burn.  (I learned that the hard way!)
** To ensure a tender bite, slowwwww and lowwwwww is the way to go! **
I like to serve the brisket piping hot with fresh challah or potato rolls, freezing cold apple sauce and obviously a heaping glass of red wine!
On the off chance there are any scraps left over, shred the brisket and make yourself an unpolished sandwich for lunch the next day.
Dig in & enjoy!
Oh, and don't thank me… Thank Vivian!!!!