Isn't is awesome when you pick up the phone to call a friend and they say, "OMG, how did you know I was just thinking about you?"  I love it when that happens.
What about when you exchange greeting cards with someone special and it turns out you've both picked the same exact card?  I love it when that happens.
And isn't it great when you're having a full blown text sesh and the two of you write the same thing to each other unknowingly because you sent your text before theirs came through?  I lovvvvve it when that happens!
Soooooo, since we're about to wrap up the month of November, I gotta keep my promise and give you one more yoga blog.
Here's a list of five things that make me say:
"I LOVE IT WHEN THAT HAPPENS… IN YOGA"
1. You show up for class with your regularly scheduled favorite teacher only to find out there's a substitute.  And not just any substitute, but a brand new substitute.  Your natural instinct is to be kinda annoyed cuz you think the class might suck but then you remember it's yoga, and there's not supposed to be any judgement.  Anybody is better than nobody so you take a deep breath and roll with it.   Ninety minutes later you admit there should be a Tail Between Your Legs Pose because to your surprise the teacher ROCKED and class was OM-azzzzing!  I love it when that happens.
2.  You feel like shit, slept like shit and have a shit ton of stuff to get done.  There's no way you'll be able to concentrate in yoga class so you plan to skip it entirely for the day.  Then the left and right side of your brain begin a massive game of Tug-of-War leaving you undecided if you should go or not.
R: "Just go to class and get it done."  
L: "I can't go to class I have so much to do."  
R: "Just go to class, you'll be finished by 11am."  
L: "I know but by the time I get out of there I'd have to get the kids because it's a half day at school so nothing else will get accomplished."  
R: "Yes, but at least you will have gotten the yoga in.  It will make everything else better."
 L: "I knowwwwwwww."  
R: "Well if you knowwwww then what's the problem?  Just go."  
L: "Really?"  
R: "Yes really!  GO!"  
Ultimately the right side of your brain wins out. (Get it?  The RIGHT side of your brain!) You show up, roll out your mat and block out the static.  You got what you needed and leave class feeling ten times better than you did upon arrival.  I love it when that happens.
3.  For months you've been hanging out in a plank position and moving your knee to your elbow or tricep or wherever when the teacher says to do so.  When she instructs the yogis in the room who "fly" to "go ahead and fly" you ignore her completely because you're clueless what that even means.  After class, one of the flying yogis gives you some pointers and before you can say "take off" you too are now soaring through the pose!  It feels great!  There's always room to grow in yoga.  Always.  I love it when that happens.
4. Being flexible doesn't mean you're immune to aches and pains.  After multiple days in a row of a hard core yoga practice you're wreckkkked.  Your body fucking hurts.  You're sore as shit and would rather just park yourself in the corner and lay in a supine position for an hour and a half.  Somehow you muddle through class.  Maybe it was the energy in the room that carried you though.  Maybe it was the shit you spritzed on your mat for an added boost.  Mayyyybe, it was the extra TLC you got from the teacher.  "Rub me down, bitch.  Harder.  Do the other side now.  You gots to even me out!  Don't walk away.  You're not done.  My hips don't lie.  Get back here.  Yes, that's it.  I feel it now.  Ow.  Ow.  Ouch.  Ow.  Owwww.  Ahhhhhhhhhhhhh."  I love it when that happens!
5.  It's hot.  You're tired.  You can't see the clock but you're convinced you've been standing for wayyyy longer than usual.  You are silently screaming at the teacher, "WHENNNNN ARE WE GONNA HIT THE FLOOR ALREADY?"  Maybe the instructor has read your mind because seconds later you hear, "Yogis, you have worked extraordinarily hard today.  It's been eighty plus minutes.  Bow down to yourselves and to your standing practice.  Lie down on your mat and close your eyes.  You've earned this Savasana.  I will not instruct you through the end of class.  The time is now yours.  You're free to stay as long as you need.  Enjoy what you've worked so hard for."  WHAT???  We're done?  It's Final Savasana time?  Nothing else?  No way, really?  You mean I can take my nap now?   WHO WOULDN'T LOVE IT WHEN THAT HAPPENS???!!!!???
JUST TO YOU LET YOU KNOW… The month started out so OM-azzing after being named the Student Spotlight for the NamaStacy Yoga Corporation that I didn't think it could get any better.  However on Sunday, November 23rd, 2014 Silver Unpolished sponsored Chaturanga For Charity and held an outdoor, poolside yoga detox class followed by an unpolished retox of eating, drinking and shopping.  The turnout was an unbelievable success!  On behalf of Silver Unpolished LLC, it will be my honor to donate the proceeds to NSYC.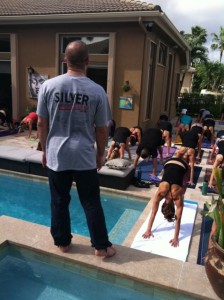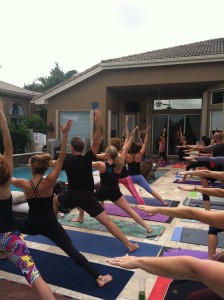 I had planned to say a little something before class began but when I looked out and witnessed the swarms of yogis who enthusiastically came out to support NamaStacy and the blog, my emotions got the best of me.  Had I been able to get the words out I would have said that my blog and my yoga practice have become the driving forces that help to keep me balanced.  Successfully meshing these two worlds together in an effort to pay it forward is an overwhelming feeling!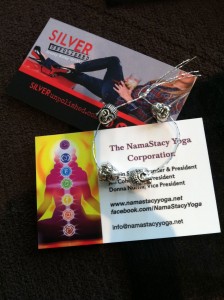 I've always believed in The Law of Attraction which states "that which is like unto itself, is drawn" or simply, birds of a feather flock together!  BUT… I also strongly believe that opposites attract.  The juxtaposition of my unpolished mind flocking towards the clarity that yoga provides is something that boggles me and amazes me and humbles me and grounds me.  And you know what?  I LOVE IT WHEN THAT HAPPENS!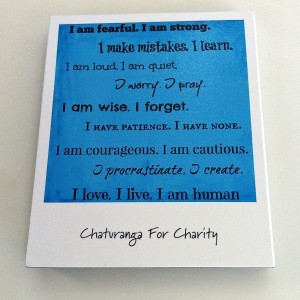 With Thanksgiving upon us, I'd like to take this opportunity to say THANK YOU to all my unpolished friends and family for your love and support.  I am grateful for each of you and wish you and yours a happy and healthy Thanksgiving.  May your hearts always be warmed, your bellies full and your wine glasses refilled to the rim.  Obvvvvvvvv!