Thursday night I'm gonna say goodbye once and for all to the Bravemans.  I know it seems silly but I'm choked up just reading back that sentence.  Saying goodbye.  Once and for all.  The Bravermans.  Gulp.  It'll be a miracle if my computer doesn't short out by the time this blog entry is completed due to the tears dripping onto my keyboard as I type.
If you've been keeping up with me, than you know how I keep up with not only the Kardashians but with pretty much every family on television.  There's no doubt that the Salinger siblings from the Fox network drama Party of Five tugged at my heartstrings in each of the one hundred episodes I watched from 1994 to 2000.
I can't deny that my love for red wine from the vineyards of Ojai can be attributed to the many, many, many Sunday nights I drank along with the Brothers and Sisters of the Walker Family from 2006 to 2011.  If my blog had existed back then, I'm sure my computer would have crashed from the unpolished sobbing that took place in the final episode when Robert McCallister (Rob Lowe) died in Kitty Walker's (Calista Flockhart) arms.
The dark, twisted, unpolishedly-fucked-up-beyond-words Fisher family practically put me Six Feet Under for five seasons. That finale?  It wasn't just HBO genius, it was HBOhMyGod genius!
And speaking of HBOhMyGod genius, to this day every time I hear the Journey song, Don't Stop Believin' I am immediately morphed back to that epic moment in the diner when I freaked the fuck out because I thought the power blew in my townhouse at the precise second Tony Soprano was about to get offed.  Or not?  WTF! That's The End?  Cut to black?  Are you kidding me, David Chase?  My heart is pounding right now.  Eight years later and my heart is still pounding.  I know, I knowwww.  I need to pull it together!
Look, it's not just the dramas that get me.  The sitcoms leave a lump in my throat too.  Finale of Family Ties?  Yup, the Keatons made me cry.  Finale of Friends?  They were sorta like a family right?  Okay, even if they weren't; so what?  I wept.  The Office?  Sobbed.  [That's what she said.]  Sex and the City?  I meannnnnn…. Don't even get me started.
UGH… I think I'm stalling.  Actually I know I'm stalling.  I'm rehashing all the oldies but goodies because I don't want to get to the point.  I don't want to address the point of this whole blog.  My point being that of all the shows and all the families and/or misfits I've invested myself in over all the countless years, the Bravermans are my favorite.  Hands down; numero uno.  It's not even a question.  The Bravermans are the real deal.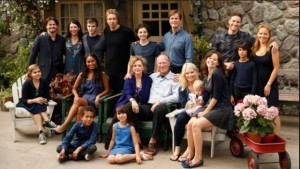 Insert the long, heavy sigh.
This Thursday I gotta say goodbye.  I hate goodbyes.
The NBC show is soooo much more than its given name of Parenthood.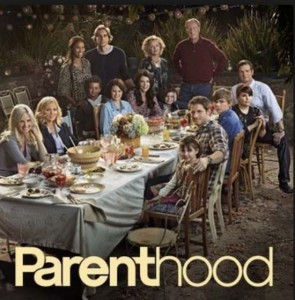 It's Marriagehood.  It's Adulthood.  It's Childhood.  It's Familyhood.  It's Trials & TribulationsHood.  It's CancerHood.  It's RemissionHood.  It's Sometimes People DieHood.  It's Asperger's SyndromeHood.  It's Interracial Couplehood.  It's Midlife CrisisHood.  It's Loving Ray Romano In A Dramatic RoleHood.  It's Dax Shepard Has Come Such A Long Way From Punk'dHood And He's My Favorite CharacterHood.  It's Drifting Away From Your Spouse But Trying To Find A Way BackHood.  It's Following Your DreamsHood.  It's Knowing When To Let Go Of Those DreamsHood.  It's Siblings BickeringHood.  But It's Also Siblings Sticking TogetherHood.  It's Going To CollegeHood Or Choosing To Not Go To Collegehood.  It's Being So Selfless That You Decide To AdoptHood.  It's NOT ABOUT Money Or Labels Or StatusHood.  It's NOT Sugar-CoatedHood.   It's About What's Really ImportantHood.  It's The Uncertainty Of AgingHood.  It's The Cycle Of LifeHood.  It's Laughing And Crying And Then Laughing Some More And Then Crying Again All In One EpisodeHood.  It's Professional Acting That Is So Fucking Amazing It's Hard To Tell If It's Actually Scripted Or If They Just AdLib The Whole ShowHood.  It's At Times Too Heavy To Watch But I Can't StopHood.  It's HonestHood.  It's ImperfectHood.  It's Realer Than RealHOOD.  It's LifeHood.
 It's……. UnpolishedHood
Have I mentioned how much I hate goodbyes?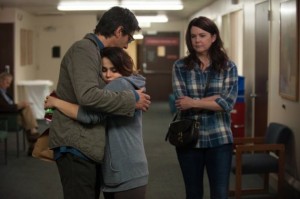 I'm already preparing myself for Thursday's finale.  I do that a lot with things I dread.  I try to imagine the worst case scenario ahead of time so that when it happens I'm prepared.  It's retarded, I know.  It's one of my stupider, unpolished shticks.  Cry it out now so I won't have to later.  It never works.  I always lose my shit and break down anyway.  So much for being stoic.  So much for being brave.  How about I'm more like being a basket case!
But you wanna know who is brave?  The Bravermans.  Whoa!  Hold on!  Maybe that's the takeaway.  Maybe that's been the big lesson all along.  To Be Brave.  Like the Braverman Family.  Throughout six seasons, each one of the Bravermans has taken chances and leaps of faith.  They've made some good decisions and perhaps some bad decisions but wherever the chips managed to fall, they've always dealt with them courageously.
Okay, I know some of you are saying, "Jesus Christ, Silver.  Take a fucking chill pill you psycho drama queen.  It's just a TV show."
No worries folks.  I will gladly take my chill pills and drink my drinks and do my yoga breathing and whatever other tricks I think may help me brave the storm of the inevitable farewell to the Bravermans.  I'm honest enough to admit there isn't an unpolished shot in hell I'll be able to watch Zeek (Craig T. Nelson) walk Sarah (Lauren Graham) down the aisle without mopping my basket case self off the floor.
Floodgates gonna be open.  Waterworks gonna be flowin'.
Yes, I know it's just fictitious; however I've learned a lot from this remarkable family.  We should be so lucky to have our own kin exude the same kind of strength and fortitude and generosity of spirit that has been depicted on this TV show.  In real life I'm not a Braverman but I'm hopeful by trying to impart their values into my unpolished world it might make me a Braverwoman after all.
JUST TO LET YOU KNOW… If you too have been a dedicated fan of Parenthood, I'd LOVE to hear your thoughts.  Please don't make me say goodbye to the Bravermans all alone.  Let's say our farewells together!  Help me pay homage to our beloved Bravermans by commenting below.  Do you have your own personal takeaway?  What will you miss the most about the show?  How do you think it will end?  Who's your favorite character?  Do you love Camille?  When you look at Julia (Erika Christensen) do you still think, Swimfan?  How long did it take you to disassociate Lorelai Gilmore from Sarah Braverman?  Do you secretly want to lay down a track at the Luncheonette?  Isn't Jabbar the cutest kid ever?  Do I even have to ask if there's a better Patriarch than Craig T. Nelson?  Who needs a tissue?  I can't even…….
Farewell Braverman Family Farewell