In Italian the word Sogno means dream.  At Sogno Salon of Parkland dreams do come true.  Let me tell you why.
My Mom and I recently spent some well needed, long overdue time together.  It was really special because rarely do we get a chance to have an entire Mother/Daughter day of uninterrupted fun.
We ate.  We drank.  We shopped.  We talked.  We laughed.  We gossiped.  We ate again.
Just when I figured it was about time to wrap up our bonding sesh, my Mom sighed and said, "Well, we've covered everything else so I might as well bring up what's really been on my mind."
Oh fuck. I thought to myself.  Here we go.  She's gonna lace into me now with the Jewish guilt.  "What?  Let me guess; I don't call you enough?  You're pissed because you always get my voicemail?"
"No, No.  It's nothing like that."  She sighed again and said,  "It's the biggest issue in my life that I have spared you from discussing."
I replied, "Oh God.  I knew it.  Fuck!  Someone's sick.  Who?  What's wrong?  Ma, just spit it out."
"Nobody's sick.  My issue is… my hair.  I can't find anyone to cut my hair the way I like it.  Dad will not listen to me bitch about it for another second.  He says I'm obsessed and he can't take it any longer!  I would travel to Egypt if I could get a great cut.  Can you help?   Do you know anyone who can give me a good haircut?"
"WHAT??????"  I said with fury in my voice.
"Your HAIR?????  THAT'S the big issue?  Jesus Christ Mom, I thought someone was dying.  Don't you think you're being a little dramatic?  And the Oscar goes to……."
"Oh Rachel, please!  Do you or don't you know anyone who can fix my hair?  I NEEEED to find a new stylist."
Well as it turned out, it was Mom's lucky day because I did happen to know a stylist or two!
Enter:  Sogno Salon of Parkland
The chic, upscale Sogno Salon of Parkland is located in the Riverstone Shoppes just North of Hillsboro Boulevard on State Road 7.  Like many hair salons, Sogno is open Tuesday through Saturday.  However, unlike many salons, Sogno knows that every day is a great day to get beautified so should you need an emergency cut or blow out on a Monday, they will gladly accommodate you by appointment!
That oughta make a lot of clients veryyyyyyy happy!
I'm a firm believer that you're only as good as your customer service.  After my Mom clued me in on her coif dilemma, I knew I was one call away from putting an end to the hair rant.  I picked up the phone, dialed Sogno and within an hour my Mom was sitting in Jeri's chair!  How d'ya like that for customer service?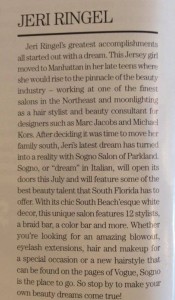 Owners Jeri and Jared Ringel moved from the Northeast to turn the dream of opening a salon into a reality.  Jeri, and the entire Sogno team are highly skilled stylists and collectively have over ninety years of hands on experience!
Sogno Salon of Parkland specializes not only in haircuts and/or color application.  They are fully equipped to offer both male and female clientele with a wide array of beauty services including manicures and pedicures, hair removal treatment, facials and makeup application.
Hey fellas out there… I'm not ignoring you.  DON'T BE SHY!  Is it time for some manscaping?  Do ya need a trim?  Sogno is running a Men's Cut Special for only $15.00 through February 28, 2015.  Book your appointment today and take advantage of this new client deal!
Suffice it to say, my Mom, who is an unpolishedly tough critic and always sometimes hard to please was absolutely thrilled with her new haircut!  From the moment my Mother walked out of the shop, the ranting ceased and the raving began!  She currently has Jeri's cell phone number programmed on speed dial!
Parkland, Florida is a helluva lot closer than schlepping all the way to Bumblefuck, Egypt for a haircut so I'm fairly certain she'll be back for more!
After all, what was once just wishful thinking is now a Sogno come true!
JUST TO LET YOU KNOW… Valentine's Day is just around the corner, so why not give the gift of style?  Sogno has a holiday promotion you will fall in love with!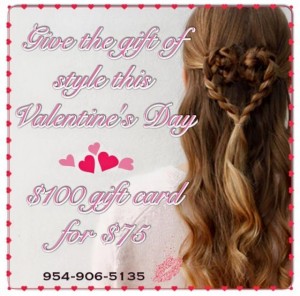 Don't believe in the Valentine's Day hype?  That's alright!  Sogno Salon of Parkland provides gift certificates all year long whether it's a holiday or not!
Go ahead….Give a gift; treat yourself; or better yet, do both!  Get on the phone and make that appointment today!  Oh, and don't forget to mention this blog post!  There might just be a little, extra, unpolished somethin' somethin' if you do!  Call NOW to find out!
 Sogno Salon of Parkland 
7305 N State Road 7, Parkland, Florida 33073
954-906-5135