What's SUP??!??  Get it?  What's UP but SUP.  That's also what the kids say these days.  My nine year old likes to start off his texts simply typing, "Sup Mom."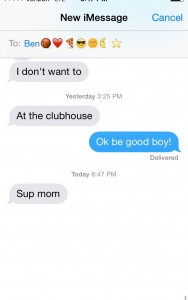 But when I reference "SUP" I'm usually using it as an acronym for Silver UnPolished.  Ahhh it works, right?  I know.  Thanks.  I love it too.  I love it so much I even had notepads made!
Moving on….
Apparently I haven't cornered the market on the phrase.  My unpolished friend, Robin has come up with her own twist on the SUP concept.   Currently she's cornering the market on my website and taking over today as Guest Blogger!
So now, I'm turning it over to her.  Enjoy!
"THE SSUP"
Written by Robin Saks
Have you noticed anything different about the local moms at school pickup?  Did you see what your friend had on in the grocery check-out line?  Or maybe you were dumbstruck in yoga class during the downward facing dog.
Instead of feeling the burn or meditating on the moment, you're stuck on "WTF are you people wearing?"
It's time to tell you the truth, there's a Secret Society of Ugly Workout Pants (SSUP is how we greet each other) and the membership ranks are swelling.
Remember the good old days in the late 90s and early aughts when you just threw on some kind of stretchy workout pants, always in black?  Then maybe you got a little fancier and went for a cropped pair or even splurged on those new Lululemons you'd been hearing so much about that make you look ten pounds thinner so well worth the price.
Flash forward to any place where Boca's finest Type A's congregate to sweat it out and you're nearly struck blind by the palette of paisleys, florals, neons and other garish patterns adorning the legs of your peers.
"What's happening here?" you might wonder.  The cat's out of the bag: if you want to fit in, you'd better stand out.  No pattern is off-limits.  Think repeating baby kittens, ombre stripes and dancing unicorns.  Type "Crazy Workout Pants" into Google and some of the images have the potential to actually blind you.
If you want to join us SSUPers, just ease into it. Try a little camo on the treadmill and see how it feels.  Maybe work your way up to some zig zags or starry skies during kickboxing.  Soon you'll be rocking those Spandex flamingo pants at the mall after Pilates.  You'll know you've made it in the group when you spy a like-minded gal whose legs literally stop traffic (because they have blinking stop lights on them of course) and you'll almost imperceptibly give each other a nod and a soft "SSUP."  
JUST TO LET YOU KNOW…. Robin Saks Frankel has written for various publications and blogs including TravelZoo, The Honest Company, New York Family, Macaroni Kid, Big City Moms, BornFree and more.  If you missed her last unpolished piece here on Silver Unpolished, CLICK HERE TO CATCH UP!  You can also follow Robin on Instagram @robinsaks.