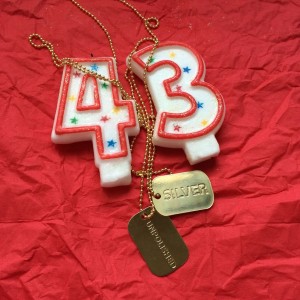 Yesterday was Rosh Hashanah, it marked the Jewish New Year.  The Day of Judgement.  Rosh Hashanah literally means, "Head of the Year."  
Yesterday was also my Birthday.  It marked the Silver New Year.  The Day of Unpolishedment.  My Birthday literally means, "Shit!  I'm another year older." 
While it typically feels good to nourish my normally neglected Judaic soul with Hebrew prayers and fill up on words of wisdom from the rabbinical sermons, I decided instead to use my time at High Holy Services as a reflection on what turning forty-three means to me.
This Is Me; Unpolishedly @ Forty-Three

  
I've learned so much about life in forty-three years; yet in reality, I've just begun to scratch the surface.  Knowledge is power.  The more I learn, the more powerful I feel.  Forty-three years worth of knowledge is not nearly enough.  I look forward to always learning more.
However, sometimes all the knowledge can be a catch-22!  There are days I wish my brain was less complex.  I wish I had an off switch or an escape plan to get away from my unpolished thoughts.  There are days when the heaping piles of awareness can be downright exhausting to organize!
@ Forty-Three…
I believe life as a whole is about the Pursuit of Happiness.  This pursuit is ongoing.  The thrill of the chase is what keeps us from not giving up.  Finding happiness should be simple but we all know it can be tricky.   At forty-three, it is crystal clear that one's true happiness must come from within.  It can't be bought; it can't be worn; it can't be driven; it can't be lived in; it can't be inherited.  Don't mistake what seemingly looks like happiness on the outside for what happiness feels like on the inside.
@ Forty-Three…
I realize everybody has baggage; they just carry it in different suitcases.
@Forty-Three…
When it comes to lucky people, I think being lucky has little to do with luck and more to do with being ambitious, tenacious and striving for success at all costs.  Luck is not a shortcut; it's a byproduct of working your ass off!
@Forty-Three…
I have even less tolerance for laziness than I did when I was forty-two.  I would bet as I get older, my acceptance for half-assedness will continue to decrease respectively.
@ Forty-Three…
I'm still working toward facing my fears.  Confronting these fears can be challenging and anxiety-producing to say the least, but overcoming them can yield immeasurable reward.  I am a constant work in progress and will continue to evolve through personal growth.
@ Forty-Three…
The weight debate is one I hate!  I wish I were as skinny as I was the first time I thought I was fat.  I recently saw a picture of myself from my 40th birthday and I couldn't help but to think of it as three years skinnier ago.  Fucking great.
@Forty-Three…
Call me crazy but the cute little freckles on my hands, cheeks and arms are no longer called freckles.  At forty-three they're called something else.  They're called age spots and they aren't cute.  In the event I forget how old I am, I guess I can look at my spots and start counting.  Fantastic.
@Forty-Three…
Speaking of calling, I'm blessed to be able to pick up the phone and call my loved ones.  I should probably pick up the phone and call more often because at forty-three, having a supportive family is worth it's weight in silver. 
I constantly think about my Grandmother, but this week even more so because our birthdays are a day a part.  We always celebrated together.  If ever there were a spunky, outspoken, fearless, unpolished woman, it was my Grandma Gert.  Had she been alive when I first started this blog, there's no doubt she would have been my unpolished sidekick.  I can totally picture it; her posts would have been titled:
JUST TO LET YOU KNOW……..
"I'm Not Being Rude;  I'm Being Shrewd; Because I'm Gertrude!"
If Twitter exists in Heaven, I know she's following me; so this tweet is for her:
@GramGert Happy Birthday.  WHAT'S SUP Up There?!!  xox 
@ Forty-Three…
I live to dream in color.  No matter how old I get chronologically, I won't stop using my vivid yet sometimes childlike imagination to fantasize about the endless possibilities life has to offer.  At times when I find myself feeling lonely, I rely on the vibrant yellows and blues and greens in my dreams to transport my mind to a more fulfilling, magical place.
@ Forty-Three…
I keep my friends close and my enemies…. not closer!  I happen to think the expression about keeping your enemies closer is ridiculous.  I barely have time to give my real friends the attention they deserve which means I certainly don't have time to worry about pleasing my enemies.  At forty-three the importance of letting go is paramount.  I don't have a magic formula for ever-lasting friendships but at this stage of my life, I have no shame in reducing and eliminating non-value-added individuals from the equation in order to focus on maintaining the already more developed, healthier and equally balanced ones!
@ Forty-Three…
I do not believe in coincidences.  Instead, I believe in a Higher Power as explanation for otherwise unexplainable circumstances.  The more unexplainable the situation, the more I believe in the force that is directing my path.  Life throws us curve balls when we least expect it, so at forty-three I'm embracing these unexpected twists as positive learning steps rather than missteps.
@Forty-Three….
When I'm not crying and cringing I'm laughing and loving!  Not every day is a great one.  However, as Mr. Worldwide, Pitbull so profoundly put it, "Every day above ground is a good day so I celebrate!"
@ Forty-Three….
Even if I'm red-handedly caught buying my own birthday cake, I'm making all kinds of unpolished wishes I hope will come true!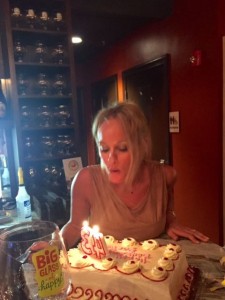 JUST TO LET YOU KNOW…. I want to thank everyone who took time out of their day to wish me a happy and healthy birthday.  The outpouring of both the polished and the unpolished sentiments have truly touched me.  I also wanna give a special shout out to my fellow Virgo and "in utero" partner in crime…. I wanna give a special birthday shout out to my unpolished TWIN brother, Andrew!  Happy Birthday Kiddo!  Yup, you read that correctly; my TWIN brother, Andrew!  But that's a whole other blog topic!!!!!!!!!!