JUST TO LET YOU KNOW…  I invited Seth Rogen to join me for lunch at my house.  Yep, THAT Seth Rogen.  The funny Seth Rogen.  The famous Seth Rogen.  The one from the movies.  The Seth Rogen who's a major stoner and doesn't apologize for smoking a shitload of dope.  The Seth Rogen who's been cracking me up ever since he starred in Freaks and Geeks in 1999 and every movie he's been cast in since then including but not limited to Knocked Up, Pineapple Express, Superbad, The 40 Year-Old Virgin, This Is The End, Funny People and Guilt Trip.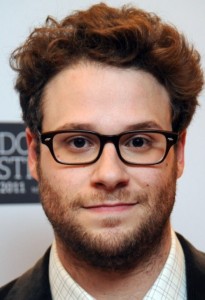 To say I'm a huge unpolished fan of Seth Rogen would be putting it mildly.  I'm a humungous unpolished fan.  Ginormous.
So I wrote a letter to Seth and his wife Lauren Miller, inviting both of them to Boca Raton for lunch.  With me.  At my house.  Yep.  I did that.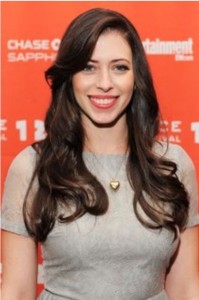 Wanna know why?  Well first of all, why the hell not?  Who wouldn't want to have Seth Rogen come over to chill, definitely without question maybe roll up a fatty and smoke it together, shoot the shit, chow on some awesome eats and laugh our unpolished asses off for the afternoon?  Who in their right mind would turn that offer down?
But of course that was not my only motivation for inviting Seth Rogen to my house for lunch.
Take a look at the letter I wrote below.  It will give you the backstory as to why I invited Seth Rogen and his wife Lauren to my house for lunch.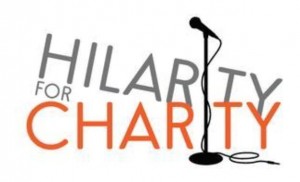 Dear Lauren & Seth,
I hope this email finds you well.  My name is Rachel Silver-Cohen, and I am a local blogger located in Boca Raton, Florida.  
A few months ago I was invited to be part of a Mitzvah Lunch Group.  This group consists of local, intelligent women in the community who rather than spend money lunching with friends for no other reason than "yenta-ing" it up, we instead once a month, select a member to graciously host a lunch in her home and each attendee is asked to make a small donation to the hostess's charity of choice. 
The Mitzvah Lunches are always powerful, thought provoking and productive however I found myself leaving these lunches emotionally drained because the charities I was learning about were attached to heart-wrenching personal stories.  
When I was asked to be a host for a future Mitzvah Lunch I agreed immediately but as quickly as I said yes I knew I didn't want a roomful of women sitting in my living room crying.  I knew I could help to spread awareness about equally important causes with laughter in lieu of tears!  
Because my blog is my passion and I attempt to evoke many feelings from my audience, of which laughter is right up there on the top of the list, I immediately thought of Hilarity For Charity as my cause.   Although there is absolutely nothing funny about Alzheimer's disease and dementia I am truly inspired by the way in which you have used your craft of humor to spread awareness to the millennial generation and I want to help!
Alzheimer's has not directly affected me or my loved ones but I am greatly empathetic to the suffering these conditions have on both the patients and family members alike.  I can't imagine the toll it takes on everyone.  
With that said, I am honored to share on Thursday, November 12th 2015 at 11:30am EST I am proudly hosting a Mitzvah Lunch for the women in my community at my home in West Boca Raton, Florida and will be donating 100% of the profits to Hilarity For Charity on behalf of my blog, Silver Unpolished LLC.  
How wonderful would it be if you joined us?  Surely you must have a family member in Boca?  Wouldn't you love to visit them?  I'll even cater in your favorite meal or better yet, I'll cook my famous brisket!  If you can't make it in person, thanks to social media we could always Skype!  Or FaceTime! I could Periscope our lunch on Twitter!  I'm confident we can create a buzz in Boca and I bet it would be the best Mitzvah Lunch yet with no tears, just all cheers for raising awareness and spreading the word about Alzheimer's and dementia!  And what better location to promote your charity than South Florida!!!
At these lunches, we usually raise between $500- $1000, but I know your presence would skyrocket our donations!
 I anxiously await your reply and really hope we get to meet you!
My very best to you both!
Unpolishedly Yours,
Rachel Silver-Cohen
Okay, so that's why I invited Seth Rogen to my house for lunch.  I need to get him to The Greek my Mitzvah Lunch!!!!!!!  I need him to participate in some way, shape or form and in order to do that I need YOUR HELP!  Using our unpolished chutzpah in conjunction with the powerful magic of social media to reach the masses, we can inundate Seth Rogen's Facebook page and Twitter feed with our pleas!  We can get our message out there!  We can get the attention of Seth Rogen!  We can ask our friends and friends of friends and their friends too to share the letter and this link in an effort to spread my unpolished proposal for lunch plans!  Let's work together to make it happen.  Let's work together to get Seth Rogen and his wife Lauren to participate in my Mitzvah Lunch so we can help educate people on Hilarity For Charity and spread awareness about Alzheimer's Disease and dementia.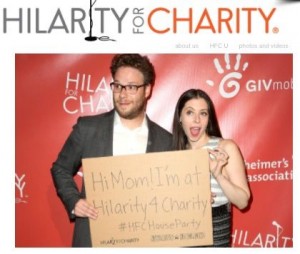 Please help me make this happen!  Would you like to come to my Mitzvah Lunch?  Let me know in the comment section below!