Although it was an unpolishedly hectic week, a lot of progress was made. Allow me to recap:
1. On Monday, I published a letter titled, Dear Seth Rogen… Will You Join Me For Lunch? Within the first twenty-four hours of posting, the number of blog clicks were staggering. I think I mighta hit an all-time personal unpolished record when the interaction exceeded 2K in less than one day! The better news is we're really making a difference. In addition to my friends and family, local businesses as well as complete strangers have reached out to offer their support in an effort to get Lauren and Seth to Boca! Even more exciting, Rogen's camp now knows how badly we want them to show up at my house; for lunch, to help raise money for Hilarity For Charity.
We gotta keep the momentum going. If you haven't already spread the unpolished word, please do so now. SHARE THIS LINK and let's continue to work together for a great cause! I know if we stay the unpolished course, our plan will persevere!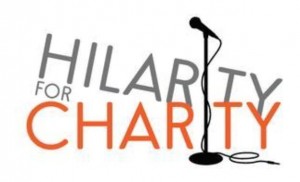 2. My fabulous friend Frayda's 100% handmade goatskin leather bags finally found their way from Ecuador to my front door and we sure did binge on the fringe; the party went off unpolishedly pitch perfect and a fringe time was had by all.  New styles and fresh, hot colors are already in the works so if you're interested in purchasing a custom bag and want to familiarize yourself with the details on the latest fashion trend for Fall, CLICK HERE!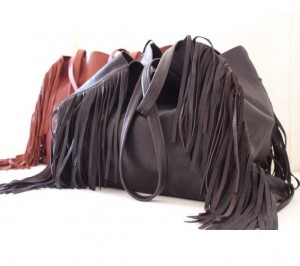 3. It was super cool to be featured as Haute Drop-Off's Haute Human Of The Week. If you missed the unpolished article poking fun at the stereotypical Boca Mom, CLICK HERE to catch up!
4. I called the doctor this week to schedule my annual gyno appointment. That recording you get; you know the one? "Please listen carefully as our menu options have recently changed." Exactly how recent do you really think it's been since those menu options changed? Don't you think they just say the options have changed so we pay more attention? I bet those menu options have never changed. I bet the menu options have been the same since the very first day the office opened and yet I still never seem to remember what number to press. More times than not I bypass that annoying recording right away and I press whatever button my finger hits first in order to get a live human being on the phone. I guess it's my own fault I was on hold for twelve minutes before being told by the billing department I had pressed the wrong extension. Maybe next time I should give it a try and listen more carefully!
5. SPOTTED! My unpolishedly polished, tramp stampin', bosu-beatin' teacher-slash-friend Stacey was spotted working out in her SUP wife beater this week. If you wanna get your ass kicked so you can get your ass in kick-ass shape like hers, throw on your unpolished beater and get your ass into Pilates of Boca for a next level ass beating!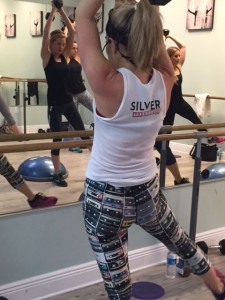 The SUP garb was also SPOTTED in Los Angeles, CA this week.  These prettywittygritty chicks look unpolishedly psyched for their hike!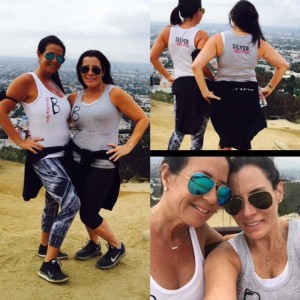 Next time you're sportin' my stuff or you see someone stylin' in the swag, don't forget to snap a pic and send it to me for my GET SPOTTED series!
6. Speaking of style, the women behind STARK STYLE have been helping me declutter my closet so I can clutter it back up with new styles ranging from contemporary to couture! High-end luxury consignment is the unpolished way to go if you're looking for a way to save some AND spend some! Check out this week's post titled, "SIPS, SNACKS & STYLE… STARK STYLE" by CLICKING HERE to read the deets. For my local peeps, don't forget to come by my home this Wednesday night, October 21st @ 7pm to learn first hand how to get rid of your second hand styles!  The Stark Style gals will also be bringing their current inventory available for purchase.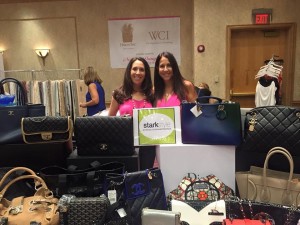 7. This week I got in touch with a local foundation to donate a leather couch, a club chair and a matching ottoman. Before agreeing to take my donation, the woman I spoke to on the phone asked to see pictures. With the furniture in impeccable condition, I gladly obliged and immediately sent photos. That was five days ago. I've yet to hear a word. Should I assume she doesn't want it? Why wouldn't she want my charitable donation? I don't understand. Hmmm, do you suppose beggars can be choosers after all?
8. This morning I rounded out the week by making my monthly delivery of Unpolished Kindness to the lucky raffle winner from the Remember, Respect, Reunite event held this past September 9, 2015 which helped raise money for the Samaritans365 Foundation; a non-profit organization committed to spreading Kindness globally one good deed at a time.  We must never lose sight how much Kindness Matters even if it's packaged unpolishedly!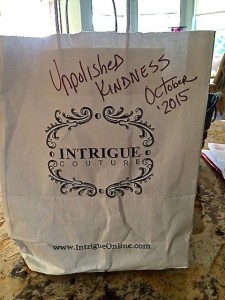 JUST TO LET YOU KNOW….. Are you intrigued by what's in the bag?  Add your thoughts and comments below as to what you think is in this month's goody bag of Unpolished Kindness.  The correct guess gets their very own personal package of unpolishedness!