My girl Frayda did it again!
She found something fabulous so I'm thrilled to fill you in.
Frayda hasn't stopped raving about Estrella Shuster, CME, LE.  Estrella is a licensed esthetician certified in medical electrolysis, laser aesthetics, advanced skin peels, Endermologie, and oxygen and hydration therapy.  She has over 35 years experience in treating the most difficult skin challenges.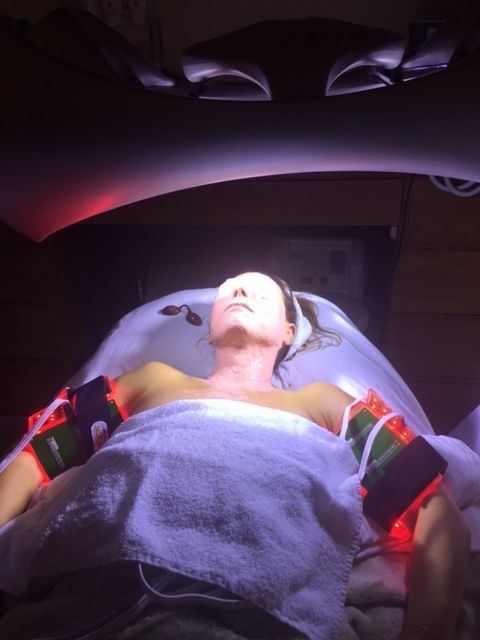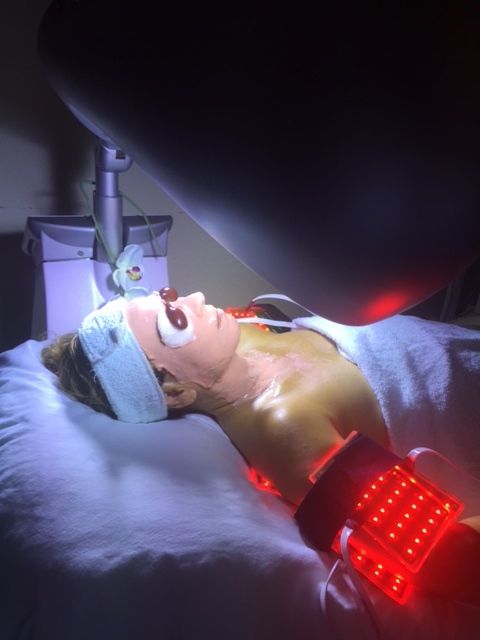 It might appear as though the female pictured above in supine position is preparing to blast off on some sort of freaky rocket ship, ready to launch into outer space; but it's actually just my girl Frayda, in flight, enjoying a relaxing facial and microdermabrasion treatment to keep her skin agelessly defying gravity as she travels back to the future! By adding a revolutionary Blue Light Therapy to the regimen, she's now on the fast track to a blemish-free, freshly rejuvenated face!
As a frequent client of Estrella, Frayda pampers herself with facials every six weeks and vouches that her skin has never felt or looked better.
Ummmm, hells yeah I'll take a one way ticket to glowing, radiant and youthful skin! Sure I'll use my frequent flyer miles on an assortment of non-surgical, non-invasive, gentle procedures that improve tone and texture while simultaneously fighting the natural effects aging has on skin. You better believe I'll take that trip all day long! Wouldn't you?
FACT: I trust Frayda more than I trust my unpolished self so if she says Estrella's facials are a phenomenal find I knowwww the facials are a phenomenal find!  However, in the unpolished spirit of keepin' it reals on the blog, I called Estrella myself to dig up some additional details about her expertise.
"At Stars Skincare Med Spa we believe that everyone should enjoy healthy and glowing skin. Whether you're looking to achieve a flawless complexion, remove fine lines, or take years off your appearance, Stars Skincare Med Spa has the solution for you. No two treatments are ever the same.  Each appointment is designed specifically to fit the needs of the individual client.  I customize a skin care plan so you can achieve optimal results." – Estrella Shuster
When I asked if she could whip up a special treatment plan that would help polish up my unpolished "selfie shot" she kinda hesitated before replying nervously with a giggle.  She doesn't know my sense of humor yet so I quickly let her off the hook and said, "If Frayda Has Faith In YOU…. And I Have Faith In FRAYDA… That Means I Have No Choice But To Put My Faith Face In Your Hands!"
I then booked my facial for first thing Tuesday and I CAN. NOT. WAIT!
Calgon Estrella, TAKE ME AWAY!  
Estrella, who owns and operates Stars Skincare Med Spa located in East Boca Raton, is available six days a week by appointment only.  For more information check out the website by clicking HERE. Also be sure to "LIKE" and follow on Facebook by clicking HERE.
I'm unpolishedly putting my face in her hands and you can too. If Frayda found it… It must be fabulous. I have faith! Do you?
JUST TO LET YOU KNOW…. Estrella is generously offering a 20% discount on all products and services for first time clients. In order to take advantage of this unpolished pampering opportunity, don't forget to comment below and when setting up your appointment, tell her "Silver Sent You Cuz Frayda Found It!"