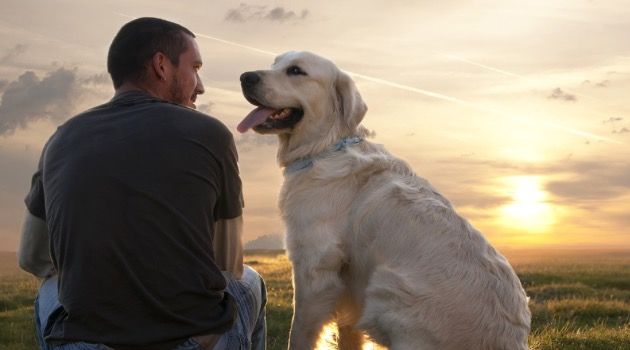 The other day while I was out and about I stopped to have a cup of joe at a local coffee shop.  With my drink in one hand and my laptop in the other, I scored a perfect outdoor spot to bang out a blog. When I came up for air otherwise known as needing to take a bathroom break courtesy of the grande soy latte I had just slurped down, I noticed a dude with a dog sitting at the next table.
He seemed harmless so I told him asked kindly if he would keep an eye on my crap while I used the facilities. When I got back, I thanked the dude and threw myself back into my blog; except his dog had other plans. Barking as though the man's best friend was offended I didn't thank him too, I looked the mutt in the face and said, "okay, okay, I'm sorry. I should have acknowledged you also; so thanks for watching my stuff. Now scram."
I turned to the dude and said, "I think he's pissed at me. Sorry I didn't make a fuss over him."
I wasn't really sorry, but what was I supposed to say?
The dude smiled and made a face as if he's had this very conversation before. "Don't mind him," he replied. "He's protective of me. And I guess a little needy."
"A little? Ya think?" I said rhetorically with as much sarcasm as I could muster.
I once again turned my attention to the computer and continued to blog away until I was interrupted by the damn dog for a second time.
Bark. Bark. Bark louder. Nudge up near me. Get all up in my shit. Bark.
"Whatttt? Whaddya want? Quit bugging me." I said to the dog.
At this point I was annoyed because A.) I don't even like dogs and B.) I don't even like dogs.
The dude seemed to be getting a kick out of my frustration. I wondered if this was some sort of shtick; like a way to talk to people. Maybe he uses the dog as his wingman to chat it up with chicks who like to drink coffee.
Alright. I'll take the bait. I'll play along just for the hell of it.
"So what's the deal with your dog?" I said unpolishedly.
"Deal? No deal," replied the dude.
"No, I mean is he like your sidekick? He goes where you go?" 
"Well, yeah. He does go where I go. It's just the two of us."
Trying not to belt out my rendition of the 1981 R& B single,  Just The Two Of Us, I used his reply as an open invitation to put on my unpolished interview hat and fire away.
Just the two of you? No family? Not married? No kids? You're just a dude with a dog building castles in the sky? I couldn't help myself. The song was stuck in my head.
"Nope." He said and then began to spew out the bullet points of his life.
Once bitten twice shy
No kids (as far as he knows)
Works hard. Plays hard. Travels (yes, with the dog)
In the absence of a human companion, the four-legged canine acts as a perfectly suitable and loyal compadre
This was the moment I got curious which type of dude-with-a-dog he was. Was he the cool, free-spirited, uncle type dude-with-a-dog who jet-sets around the globe wherever, whenever and with whomever? ORRRRR was he more the weird, creepy, loner dude-with-a-dog who lurks outside coffee shops?
I didn't stick around long enough to find out definitively because it didn't really matter and I didn't really care. However, it did trigger my brain to wonder what life would be like had I zigged instead of zagged.
For instance, imagine if you didn't have kids; or a spouse. Imagine if you were responsible for no one but yourself; or in this case maybe only a dog. Imagine if you were just a dude with a dog who could come and go doing your thang without having to answer to anyone! Where would you be? What would you do? How would it feel? Would it be lonely or liberating? Have you ever wondered?
JUST TO LET YOU KNOW… I've definitely wondered.