I didn't get laid; I got in a fight.
Okay, that's not entirely true; but can you honestly say after reading the title of this blog post that the next line didn't naturally fly, sing or at the very least hum out of your mouth? They did mine, though off key I might add.
So here's the real deal.  Yes, I DID go to a party on a Saturday night. No, I didn't get laid but I DIDN'T get into a fight!
I'm two for three!
If some of you are like, "What the hell is she talking about?" Here's a refresher of the popular 1988 song, Kiss Me Deadly by Lita Ford:
Caught up now? Good.
The party was awesome. Wanna know why? Lemme tell you.
First of all, the best parties are the ones you have no idea what to expect. I didn't have any preconceived notions about this event mostly because though I was thrilled to celebrate my friend's birthday, I had no clue who was on the guest list other than one or two other couples. When I walked in I immediately spotted some random friends/acquaintances whom I hadn't seen in ages and that sparked the night off right! Catching up with fellow unpolished peeps is always a win.
This was also a HOUSE PARTY! When was the last time you kicked it old school with a bunch of Jungle Brothers all night long?
Say What? House music party all night long! What's better than that? When it comes to chilling by way of a casual, relaxed environment in a friend's backyard I'll house you 'cuz that's my kinda gig.
Check, Check, Check, Check,Check This Out!  
Fine, so the Jungle Brothers didn't show up Saturday night, but these dudes from Sekond Nature did.
Live music entertainment amps up any party; especially a house party! Here's an example of their set list! 
Moving on, obviously the bar was stacked but only at a house party do also find a tray of Jello shots.
Only at a house party do you find a beer pong table.
Only at a house party do you find some sort of ice ramp to luge patron down your throat!
Clearly, the hosts earned an unpolished thumbs up in the drinks category!
However when you're a hungry girl, even more important than the liquor was the ample amount of food. Need I say more? Not really, but I will.
There's pretty much nothing worse than showing up for a party (starved) and having to play hide and seek for piece of bread. It doesn't have to be polished it just has to EXIST.  Around every corner I was pleasantly presented with plentiful platters to stuff my pie hole!
Cheese plates, fruit and veggies, crackers and nuts lined the bar(s) and living and family room coffee tables. Heaping boats of fresh sashimi and sushi rolls with all the accoutrements of wasabi, ginger, soy sauce and chopsticks for the taking waited to be inhaled. I scarfed plenty.
If that wasn't enough of a fiesta, the dining room table had me screaming "OLE" as every type of Mexican cuisine called for my fork to dig in. Guac? Yup. Salsa? Yup. Black beans and rice? Yup, yup! Chicken and steak fajitas? Hales yup!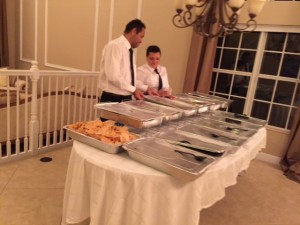 Regardless of the fact that this house party was a house full of responsible adults just trying to have some good old fashioned fun, no true house party is complete without a disgruntled uninvited neighbor calling the cops to break up the shin-dig!
Gotta be honest, when I saw the police officer, I thought it was a joke and expected to see some late night unpolished stripping! But that didn't happen. He was a real cop on the beat just doing his job. He seemed cool though had every intention of keeping his clothes on while kindly asking us to keep our music off. Whoops!
JUST TO LET YOU KNOW….. I could have house partied all night long but opted to head out before that "one more drink" would have put me over the edge and wrecked me the next day! Instead I made the smarter choice to ransack the candy table on the way out. I  packed myself quite an unpolished goodie bag for the car ride home and enjoyed every last bite!