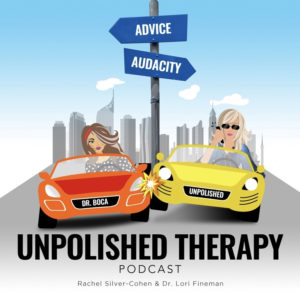 JUST TO LET YOU KNOW…
If you missed the launch of my new passion project last week, here you will find an episode guide to podcasts thus far. FEEL FREE TO EITHER CLICK THE BLUE NUMBERED EPISODES BELOW OR "CLICK HERE" TO LISTEN DIRECTLY FROM OUR UNPOLISHED THERAPY WEBSITE. You can also simply head over to wherever you download podcasts and SUBSCRIBE today for all future episodes. On behalf of Dr. Lori Fineman and myself, we hope you meet us at the corner of Audacity & Advice and stick around as we ditch the couch, grab the mic and break down all the wreckage weekly on Unpolished Therapy! 
Who are the voices behind the mics and how did Unpolished Therapy come to fruition? We might be new to the game and a little bit scared but we're committed to buckling up and taking this adventurous ride anyway! No matter where the unpolished road may lead, we can't wait to break down any and all wreckage along the way!
Technology in today's world is fierce and the fury is real. Adults and children alike are all targets in the tangled web of social media channels and platforms. There's a lot more eyes lurking than just Big Brother's. How do we manage ourselves and help teach our kids about the dangers of the World Wide Web? Tune in as Dr. Boca and Rachel Silver-Cohen break down the wreckage of The Social Dilemma.
We like to plan; we like to follow a routine; we like to get it right! But what happens when the rug gets pulled out from under us? Can you pivot in a pinch or do you freeze like a deer in headlights? Let's look at life as an improvisational act in an effort to help lighten up and ease our minds. Could improv be an unpolished tool to tackle the unknowns and issues out of our control? Listen in and find out!
It's not always easy to admit, but we're all guilty of casting judgment on others from time to time. Given the current unpolished climate of our nation, judgment runs rampant amongst even those closest to us. Dr. Boca helps make sense of what's really behind judgment calls as she breaks down the wreckage that we judgmentally call judgment!
Covid-19 might have curbed our enthusiasm for heading to museum exhibits or raging at rock concerts but we're not letting that stop us from kicking up the culture in other ways! How do the audacious and the therapist define culture in a Covid world you may ask? Well, one way is queuing up Netflix shows for hours on end!
In our modern day era of "hurry up and get it done," has traditional etiquette completely evaporated? Rachel Silver-Cohen may be utterly unpolished but she's an old fashioned girl at heart when it comes to the proper thank you note. In today's episode she's hot under the collar after receiving a note that leaves her speechless. Dr. Lori Fineman legit talks her off the winding road as she breaks down the wreckage explaining there may be underlying twists and turns to the real meaning behind a note that leaves us nothing short of unpolishedly underwhelmed and how managing our expectations might help on a go forward!