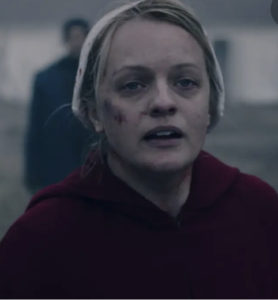 Praise Be! The painstakingly long wait is over. It's time to say "you-hoo" to Hulu as season 4 of The Handmaid's Tale is finally streaming for fans like me who've been hanging off the cliff for practically two years.
We last watched June [Osborne] in June of 2019 while in the midst of her most heroic mission to date, leading a secret charge for eighty-six children and nine Martha's to safely escape the psychotic totalitarian nation Gilead by way of a midnight flight across the Canadian border where they would no longer belong to OfAnyone and would now be welcomed into OfFreedom!
Though Hulu premiered the first three episodes of season 4 on the same day, so far I have only gotten through the first one titled, "Pigs." I had almost forgotten how deranged the Waterfords are; but I surely didn't forget about everyones most hated dysfunctional family member, Aunt Lydia.  Whether she was under interrogation for 19 minutes, 19 days or 19 months as to what she could have done differently to prevent the Handmaids from pulling off their plot, Aunt Lydia gets no sympathy from me. None. May the Lord open her ass to sit down and shut up! 
Blessed be the fruit that is Commander Lawrence flexing his negotiation skills and it paying off. Nick announced Lawerence's  promotion as a "consultant" for the other Commanders which means the cell he's been locked up in for his participation in the rescue plan will now be traded for a more improved West Wing.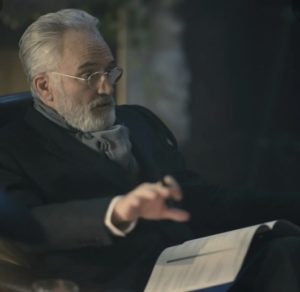 And then there's June. Bludgeoned June. Death bed June. Nursed back to life by the other Handmaids on some farm in New England June. Unhinged June. Giving Mrs. Keyes permission to cleaver the living shit out of a trespassing guard who repeatedly raped her June. Fairy Godmother June. Trusted leader and champion for all the Handmaids June. Ruthless June. Relentless June. Unstoppable until she brings Gilead down in its entirety and gets both her daughters back June. 
JUST TO LET YOU KNOW… That June is already here and she's comin' in HOT! What the season will bring remains to be seen but I'll surely be watching, under his eye.