JUST TO LET YOU KNOW…
In this week's Unpolished Therapy episode, I invite my old college friend, Ian Goldberg to grab a mic, ditch the couch and join in with Dr. Boca to talk about his latest venture as Founder & CEO of iSport360, Inc. iSport360, Inc. is an early stage youth sports technology company that is helping young athletes, coaches and parents improve communication, player development and team culture. Don't be fooled though, on the corner of Audacity & Advice this Unpolished trio might be heard calling some people "assholes" on one or several occasions! Tune in for an episode filled with team spirit, camaraderie and the mutual hope to forge positive, long-lasting, healthy relationships amongst coaches, players and parents through iSport360's platform.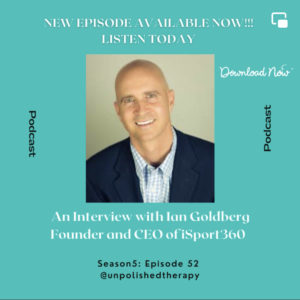 For more information on iSport360, Inc. and/or to contact Ian Goldberg, please visit their website by clicking HERE.